On May 12th, 2018, Art and Science Cafe "Many Headed: co-creating with the collective" was held with at the Shibuya Hikarie by the facilitation of Dr. Heather Barnett from University of the Arts London Central Sains Martins.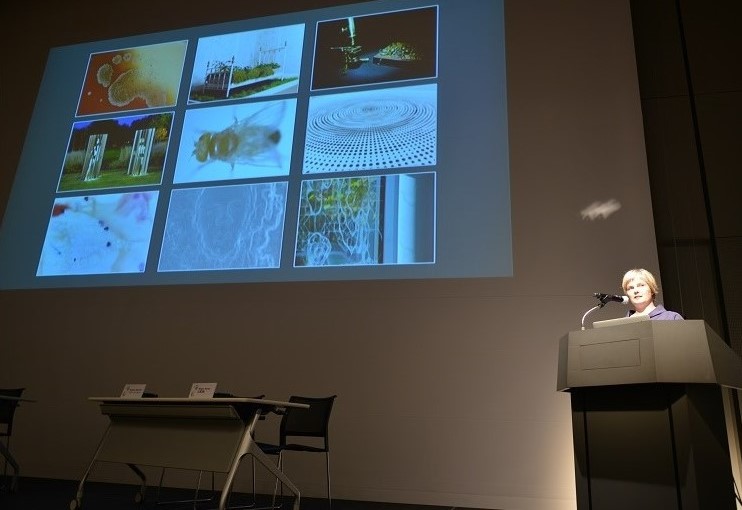 This event explored living systems from an art perspective, and used these ideas to think creatively about the possibilities of what Wearables could be, how they could function and be worn. As an exercise in thinking through making this event was spurred by a thought experiment: playing with randomly selected variables to generate ideas. From lists of 'biological systems', 'communication devices' and 'parts of the body', a roll of the dice decided which items were selected, provoking imaginative and creative speculations for the wearables of the near future.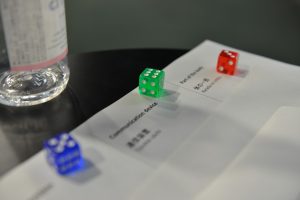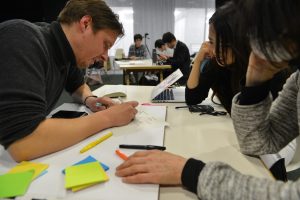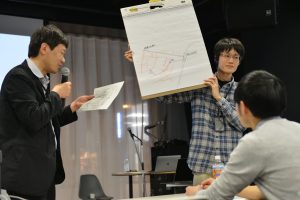 Group Works and Presentation.  Photo © Nohara Lab 2018
Following the lecture by Heather, the participants were divided into groups and each group gave a presentation. As the participant, Suwa Aoi from the University of Arts accounted, Bioart was interesting for her to think about who was the subject that carried out the role of expressing and communicating. Another member also shared that there was similarity between the movement of the fungi and that of the society and finance.
Started from Heather's practices and design, the discussions developed and encompassed a reconsideration of the larger structure of the society, animism, body, urban space, and biotechnology. This stimulating event called for further thinking of those taken for granted in our daily life.
---
Event Reflection
(by Aoi Suwa, Tokyo University of the Arts, Department of Painting)
In this Art and Science Cafe "Many Headed: co-creating with the collective", the participants were invited to appreciate Dr. Heather Barnett's artistic approach to slime molds, and expands the discussion about what it means for humans and other organisms to coexist, what is "life", and what kind of symbiosis could be realized in the mega city of "Tokyo".
The event outline was a lecture by Dr. Heather and brief discussion with the members at venue, followed with workshop and discussion in groups divided by specialties. In the introductory lecture, Dr. Heather explained about what slime molds are and her past works. She shared the finding of how community could be observed from the structure of real organisms, and raised the possibility of how they might be greatly useful for our human society.
I also watched Dr. Heather's video on TED, so I was very excited to listen her lecture in live. At that time, she asked one question: "How can a biological system such as slime mold can be useful for your work (life)?". For me who was in the fine art field, I found this question surprisingly difficult. Even if there are various possibilities for applying biological systems to design field, when considering about how to express them, I feel like the slime molds are already too attractive by themselves, or rather already completed beings with no need for further value addition. Even if we were to present slime molds as themselves, do we really need an artist there? Can we call the presenter as artist?–and so on–many questions that cannot be easily answered began to emerge.
I honestly talked about them with my fellow friends from art field and they immediately sympathized with them. When I think about bio-art and about who the artist is, I feel that when the living thing or biological system is in the medium, they do not just function as medium but also serve as the expression. In such case, I feel like the one who do the expression in a true sense is not the human who set the situation but the inhuman being instead.
When being confronted in such position, I think there are various ways in which our human expressions can become more advanced without just leave them to non-human beings. However, they are more likely to be the clues to the reality that can be felt through the human body, and I believe it is a grand question that can only be answered by steady exploration. Since it leads to the phenomenon and problem representation of my graduation thesis work, I would like to continue thinking about it.
Next, one person from the same table group showed us video of similar creatures and talked about the structure of electronic money called blockchain. Certainly, the reason why the movement of slime molds feel similar to the movement of sociology and finance is probably because the predation and economic activities are related to the instinctive profits and losses of living things, and I felt the reality there. I also thought that the biological system of slime molds is indeed a community,and it has high affinity image with social community that has similar structure.
After that, each group briefly present the content of discussion and Dr. Heather summarized it. After a short break, Dr. Heather showed some practical activities through videos. The content of the video focused on how humans can think of a community system just like slime molds, and how people become "slime molds" by performing movements inside certain space (probably a maze), with holding hands together and eyes closed. I felt a very strong sociological point of view from there. Dr. Heather presentation made me to think about the "how to coexist" message and obtained many hints for overcoming what is going to happen on this earth from now on.
Also, just like when I heard about it during lecture from Prof. Betty Marenko of CSM University of the Arts London who came to Tokyo Tech, the word of "animism" was repeatedly used as a keyword. It left strong impression and started to connect together in my head. It is probably because while it is a fresh way of thinking, it also felt familiar. When I think about where the familiarity comes from, I feel they are very much like Eastern ideas. In a sense, it may feel novel that the ideas that have been taken for granted as an Eastern view are being spoken in Western languages. I felt the strength of the ideological structure, which seems to be based on logic even under such uncertainty that has never been seen before.
Furthermore, such feelings will be further enhanced in the workshops that followed. After the lecture, we were divided into groups of somewhat equal numbers of person from art field, science field, and other professionals, and we began new work. First of all, we were asked to list 6 for each "biological system", "communication means", and "part of body". After listing, Dr. Heather rolled three-colored dices. We were instructed to discuss and think about ideas in groups using the words with the numbers corresponding to the dice rolls.
My group was designated as "biological system: fingerprint", "communication means: Morse code", and "part of body: eyes". Various voice of confusions came from each group, but I personally think that the topics our group obtained was relatively easy to be thought about.
From the argument that Morse code does not necessarily have to be digital, it progressed to the talk that even fingerprints do not have to be so-called fingerprint authentication. With further advice from Dr. Heather about how to convey the focus of the story and to whom, we managed to deepen the basic story. I also talked about the fact that art works are exactly the same, and that theaters are a typical example of such system. 

I talked about how in theater, the performers on the stage also express and communicate with the other performers on the stage, and that there is a composition where many people see that limited situation.I tried to connect it with that even when a specific person communicates with a specific person using some kind of fingerprint, it is possible that the majority of other people can also see it. We were able to deepen the discussion on it, bur Dr. Heather rolled the dice for the second time around that, and since it also seemed to be interesting, the discussion moved to the second combination.
This time, we got "Biological system: Authentication", "Communication means: Carrier pigeon", and "Part of body: Claws". This time, it was not a bad combination, but I think that a word that can't be ignored: 'carrier pigeon' would be the center of theme. In a sense, the discussion spread to the opposite vector from previously, and we started to bring the discussion direction to what about attaching GPS to the claws of the carrier pigeon so that it can be tracked. I feel it's like a dream to be able to combine modern technology with mechanism that was once commonly used. Further discussions evolved into the possibility that the pigeon trajectory data obtained by the GPS could be used for something else. At that point, I felt that the trajectory that the pigeon showed was already a message, and it was not necessary to carry some conventional documents. When I proposed it, some people in the group sympathized with it so we concluded the discussion to that direction.

The beginning lecture about slime molds by Dr. Heather was also a stimulus, and it became a talk that if slime molds draw a two-dimensional world, then the trajectory drawn by pigeon will be three-dimensional, and it was very exciting discussion. During the presentation, we presented those ideas as pigeons that do not carrying things, but instead use the location information as media art works. While talking and considering about what is required for this time theme, after thinking about it again, it might be better to put at the core of the message that the invisible shape of the city could be highlighted by flying pigeons around Tokyo.

Other groups also presented about very unique ideas, such as signal that can express emotions with color, nail pet that can visualize and keep invisible bacteria on the nails, and educational ideas that allow us to think of a city as an intestine and learn about the properties of oil and water in it.
I originally thought that these kind of group works tend to end up become things that unrealistic, or conversely, too realistic in the common case. But, Dr. Heather's skillful gimmicks has enabled the certain amount of absurdity and the logic part that can be derived from it being mixed very well. I felt the exquisite balance that I have felt since the beginning of the lecture, and I could enjoy it like a game while also easily have the logic in the output of ideas.
I wondered if Dr. Heather's works were also born in this kind of way. It was a very exciting group work where I was able to witness a piece of Dr. Heather's style of design-thinking. I am really honored to be able to participate in a project that could bring a feeling of thinking like this.
I become very interested in the future projects of the professors, and was very looking forward to participate since the content is closely related to what I have been thinking for my art production. Thank you Dr. Heather, Prof. Nohara, and everyone involved for this wonderful opportunity!
Aoi Suwa, Tokyo University of the Arts, Department of Painting
---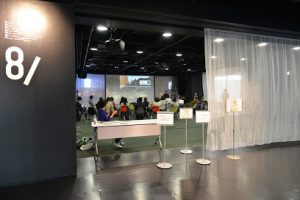 ヘザー・バーネット先生によるイベント体験記録/渋谷ヒカリエ8F COURTにて
3月12日、東工大「生命体テクノロジーウェアラブルカフェ」の一環である、ヘザー・バーネット先生によるワークショップイベント「Many Headed: co-creating with the collective」が渋谷ヒカリエ8Fにて開催されました。
ロンドン芸術大学セントラル・セント・マーティンズ校の先生であるへザー先生をお招きし、彼女の粘菌類に関するアートとしてのアプローチを鑑賞することから、ヒトと他生物が共生するとはどういうことか、「生命」とはなにか、メガシティ「東京」においてどのような共生の形が考えられるのか、という風に議論を広げていこうという趣旨のイベントでした。
ざっくりとした全体としては、序盤は先生のレクチャーから始まり、次はその場に居合わせたメンバーでの簡単なディスカッション、続いて専門を振り分けたグループでのワークショップ、最後にグループ内でのディスカッション内容を発表、となっていました。序盤のレクチャーはそもそも粘菌とは何かという説明や、ヘザー先生の過去のワークの紹介などでした。ヘザー先生のお話は、まず共同体ということが実在する生物の構造から見て取ることができ、それを私たちの人間社会にも役立てることができるのではないかという大きな可能性からの出発でした。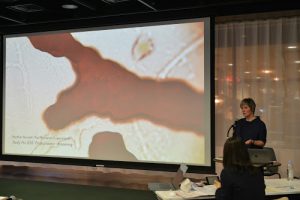 TEDで動画も拝見していたので、生でヘザー先生のレクチャーを聴講していることにわくわくしていると、ヘザー先生からひとつの問いが提示されました。"粘菌のような生体のシステムをあなたの仕事(生活)にどのように役立てることが出来るか"
この問いは、今美術系の中でもどちらかというとファインアートの世界にいる私にとっては意外にも難解に感じられました。
生体システムをデザインに応用することの可能性は多岐に渡っていたとしても、表現ということを考えたときに、粘菌そのもの自体の魅力が強すぎるというか、粘菌そのもので完成して感じられるのでそこに付加価値を加える必要を感じず、粘菌そのものを提示するのであればそこに作者は必要なのだろうか、それは提示者だったとしても果たして作者ということになるのだろうか、といったすぐに答えの出ないような問いが沢山浮かび上がってきたためです。
私は正直にそれを話したところ一緒のテーブルにいたアート系の友人もそれにすぐ共感しました。私がバイオアートについて考えるとき、表現者は誰なのかと考えた時に、生物や生体システムが媒体にあるとき、生物や生体システムが単に媒体としてのみ機能するのではなく、表現も担っているように感じます。そのようなケースでは、ある意味で真の意味での表現をしているのは状況設定をした人間ではなく、非人間的な存在ということになるのではないかと思う部分が出てきます。
そのような場に対峙するとき、私たち人間の表現が非人間まかせにならずに更に発展的な議論になる方法は色々あると思うのですが、それらは人間の身体を通して感じられるリアリティを手がかりにして、地道に探っていくしかない壮大な問いなのだろうと思います。このことはちょうど卒業制作でテーマにした現象と表象の問題に繋がる話だと思うので、引き続き考えていきたいと思いました。
それから、同テーブルの方が類似の生物の様子の動画を見せてくれたり、ブロックチェーンという電子マネーの構造の話をしてくれたりしました。確かに粘菌の動きが社会学や金融の動きに近いものを感じる部分があるのは、捕食も経済的な活動も生物の本能的な損得が絡んでいるためなのかとも思えてリアリティを感じました。粘菌がもつ生体システムは共同体であり、似たような構造をもつ社会的な共同体とイメージの親和性が高いなとも思いました。
その後、各グループごとに簡単に内容を発表し、ヘザー先生がまとめた後で休憩をはさみ、休憩から戻るとヘザー先生は実践的な活動を動画をいくつか通して見せてくださいました。動画の内容は、人間がどのようにして、粘菌のような共同体のシステムを考えることが出来るか、という部分にフォーカスが当てられている内容で、多くの人が「粘菌」となってあるスペース(恐らく迷路)の中を移動していくもの、目を瞑った状態で手探りで手を繋いでいくパフォーマンスの様子などでした。そこからは社会学的な視点を非常に強く感じ、いかにして共生するかというメッセージをヘザー先生のプレゼンテーションから考えさせられ、そこにはこの地球でこれから起こっていくことを乗り越えるためのヒントが沢山携えられているように感じました。
そのことは同じくロンドン芸大CSMから東工大にいらしたベティ・マレンコ先生の授業を聞かせて頂いたときにも、アミニズムという言葉を繰り返しキーワードとして使われていたのが非常に印象的だったことと頭の中で繋がりました。というのも、新鮮でありながらもどこか親しみのある考え方だと思えるためであり、その親しみがどこからくるのか考えると、それらは非常に東洋的な思想なのではないかと思ったためです。ある意味、東洋的な世界観として当たり前と考えられてきたような考えが西洋的な言葉で語られているのが新鮮で、そこには今までにないような不確かさの中にもロジカルさが基盤になっているような、思想の構造の強さを感じました。
更にそのような感じ方はこの後のワークショップによってより高まっていきます。レクチャーの後で、アート系の人とサイエンス系の人と他の専門の方々の人数をある程度均等にしたグループに再分割され、また新しいワークが始められました。まずは「生体システム」、「通信手段」、「身体の一部」それぞれについて6個ずつ挙げてください、といった内容でした。
挙げ終わる頃にヘザー先生が3色のサイコロをふりました。そのサイコロの出た目に対応する番号の単語を使ってアイデアをグループで話し合って考えてください、という指示が出されました。
私たちのグループは「生体システム:指紋」、「通信手段:モールス信号」、「身体の一部:目」がそれぞれ指定されました。各グループから困惑の声が挙がるなか、私たちのグループは比較的考えやすい方だったと思います。
モールス信号が必ずしもデジタルである必要はないという議論から指紋すらいわゆる指紋認証である必要もないという話に広がっていき、ヘザー先生のアドバイスもあり話の焦点はどのようにして誰に伝えるのか、という根本的な話にまで深まっていきました。アート作品がまさにそうで、劇場というのもそういったシステムの代表例なのではといった話もしました。
演劇において、舞台上の演者は同じく舞台上の演者に対して表現やコミュニケーションをしますが、その限られた状況を多くの人々が見ている構図が存在するといった話です。何らかの指紋を使ったコミュニケーションを特定の誰かが特定の誰かに行うとしたときにも、それらを他の大多数の人が見ることが出来る構図が考えられる、という風な導き出し方でした。それはそれで深めていくことも出来ましたが、その辺りでヘザー先生が2回目のサイコロを振り、そちらも面白そうだったので議論は2回目の組み合わせの方に移りました。
今度は「生体システム:認証」「通信手段:伝書鳩」「身体の一部:爪」が指定されました。今度も組み合わせとしては悪くはありませんでしたが、伝書鳩というなかなか無視できない単語が論点の中心に存在していたと思います。議論はある意味で先程とは真逆のベクトルに広がり、伝書鳩の爪にGPSを付けて追跡可能にするのはどうか、といった方向に進みました。かつてよく使われていた仕組みに現代のテクノロジーを合わせるのは夢がある話だなと思います。さらに議論はそのGPSによって得られた鳩の軌跡のデータが他の何かに利用できるのでは、といった風に発展しました。私はその時点で鳩が見せる軌跡が既にメッセージであり、従来の何か文書を運ぶということの必要はないのではないかと感じ、それを提案したところ同じグループの方々の共感も得ることが出来たのでその方向で議論をまとめていきました。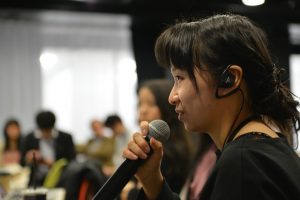 序盤にあったヘザー先生による粘菌のレクチャーも刺激になり、粘菌が二次元の世界を描くのだとしたら鳩の描く軌跡は三次元のものになるという話にもなり、大いに盛り上がりました。発表の際はそれらのアイデアを伝書しない鳩と呼び、位置情報を利用したメディアアート作品として想定し、発表しました。喋りながら、今回求められていることを考えると、東京の中を鳩が飛び回ることで都市の見えない形も浮き彫りに出来るのではないか、というのをメッセージの中核に据えるのが良いのだろうと改めて思いました。他のグループでも、感情を色で表現できるのろしのようのアイデア、爪の上で見えない細菌を可視化して飼えるネイルペット、都市を腸に見立ててその中で油や水の性質について学んでいける知育的なアイデアなど、非常にユニークなアイデアが発表されました。
このようなグループワークはよくあるケースとしてなんだか現実味のないものや逆に現実的すぎるものに陥りがちだと思っていたのですが、今回はヘザー先生の巧みな仕掛けによってある程度の突拍子のなさとそれらから導き出せるロジックの部分が非常にうまくミックスされるように仕組まれていて、ゲーム感覚で楽しむことができてアイデアのアウトプットにも論理性が備えやすいという、序盤のレクチャーの時にも感じた絶妙なバランスを感じました。
ヘザー先生の作品はこのようにして生まれてくるのかなと、ヘザー先生流のデザインシンキングの一片を目の当たりにすることができ、非常にエキサイティングなグループワークでした。このような思考の実感が伴う企画に参加させて頂けて本当に光栄です。
今後の先生方のプロジェクトもますます気になりましたし、自分の制作の中で考えていることとも関係の深い内容で、大変興味深く参加させて頂きました。ヘザー先生、野原先生、関係者の皆さん、この度は素敵な機会をありがとうございました。
レポート: 東京芸術大学絵画科油画専攻4年 諏訪葵