前回の記事に引き続き、2022 年度サイエンス/テクノロジー&アート/デザイン活動を報告します。
東工大基金の助成を受けて、2022年9月4日〜12日に、アルスエレクトロニカ・フェスティバル(Ars Electronica Festival)への学生派遣が実現しました。アルスエレクトロニカ・フェスティバルは、オーストリアのリンツで1979年より開催されている芸術・先端技術・文化の祭典で、メディアアートに関する世界的なイベントです。コロナウイルスの影響でオンラインとオンサイトのハイブリッド開催が2年続きましたが、2022年は3年ぶりにオンサイトでの開催となりました。今回の学生派遣は、野原研研究員の鹿又亘平さん(当時、文化庁メディア芸術クリエイター育成支援事業でアルスエレクトロニカの研修プログラムに参加中)の協力により実現しました。
2022年のアルスエレクトロニカ・フェスティバル(以下アルス)のテーマは「Welcome to Planet B: A different life is possible. But how?」。環境問題が深刻化する世界において、この地球上での生活はどうあるべきなのか。私たちはどのような行動をとり、どのような結果を受け入れなければならないのか。私たちはイノベーションとは技術やシステム、プロセス、最適化、合理化、利益の増大に関連するものという考え方から脱却し、人類自身を再発明する必要があるのではないか。サイエンス/テクノロジー&アート/デザインを通して、このような問いを投げかけ、答えを探る時空間がリンツに生まれていました。
環境・社会理工学院融合理工学系で学ぶ野原研究室の大学院生6名(博士課程2名、修士課程4名)がこのプログラムに参加しました。そのうち、修士課程1名を除く5名がコンセプト・デザイニングに受講生またはTAとして参加していた学生です。異分野・異文化コミュニケーションによりコンセプトと造形を練り上げた経験を経て、学生たちはアルスをどのように見たのでしょうか。訪問レポートを要約してご紹介します。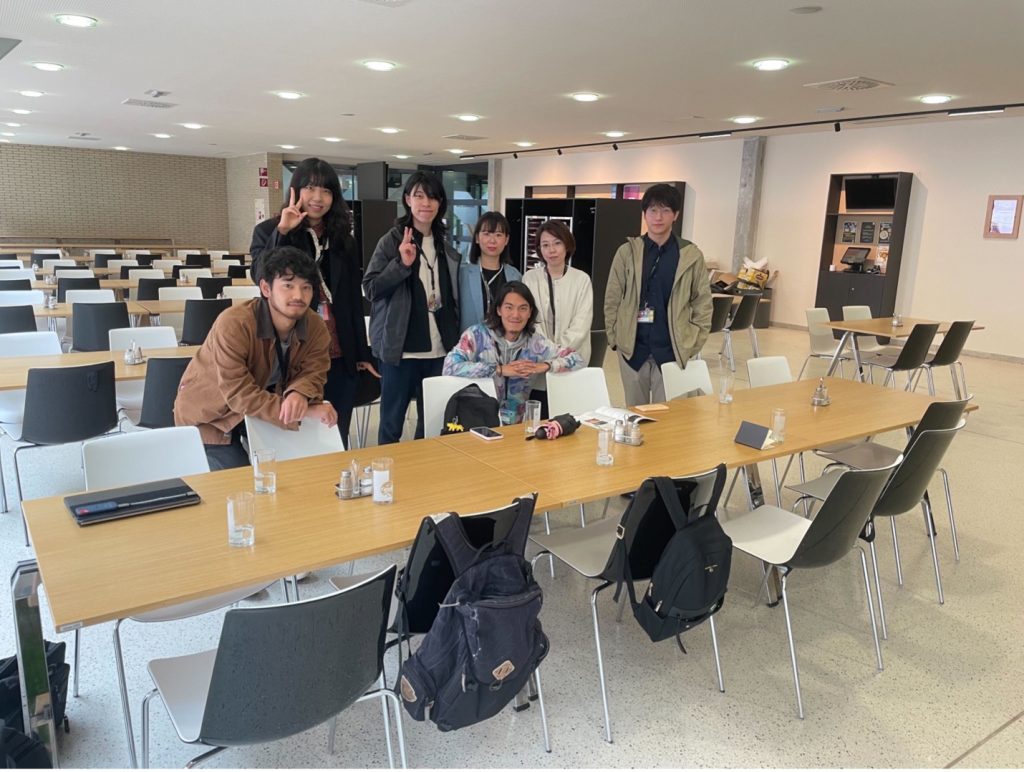 プログラム参加学生と鹿又氏
科学技術、芸術、社会の結びつき
アルスを訪れてみると、どの展示もプログラムも科学技術と結びついた芸術と社会の重要性を訴えていた。私たちは科学技術なしでは生きていけないが、技術ではなく社会やコミュニティが中心にあり、芸術が主体的な行動を促進する。これには、芸術という表現形式を通して社会の科学技術に対する理解を確かなものにするということも含まれる。
その一例が、Ars Electronica FuturelabによるNeural Network Trainingという作品である。急速な進化を遂げており、私たちの生活に目に見える変化をもたらしているAI技術であるが、その浸透度合いに反して、AIという言葉の裏で一体何が起こっているのかを理解する人は少ない。この作品は、可視化とインタラクションを通して、AI(特に深層学習)の基礎的なアルゴリズムであるCNN(Convolutional Neural Network)の仕組みを提示したものである。大きなスクリーンが並び、それぞれのスクリーンに画像解析の順番が映し出されることで、AIのインプットからアウトプットまでをたどることができる。来場者はカメラの前に物を置いてCNNアルゴリズムと対話し、時には弱点に気づいたり、AIをハックする楽しさを味わったりすることができる。このような体験を通してはじめて、AIというおぼろげな輪郭を持つ概念が、確かな手触りを持つ実体として像を結ぶのではないだろうか。
そして、このような取り組みの積み重ねによって、民主主義社会において科学技術を批判的に議論する土壌が培われていくのではないだろうか。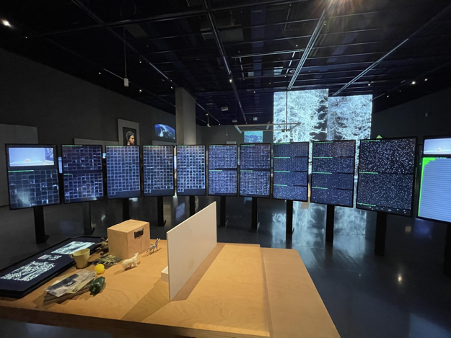 Neural Network Training (Credits: Daichi Tezuka)
議論のための開かれた空間
個別の展示とプログラムも印象深かったが、最も心を惹かれたのは、アルスには議論のための空間が提供され、その雰囲気が作られていたことだ。日本では人前で議論を始めることが難しいと感じることがある。普段の会話と議論は違うはずなのに、意見の違いで関係が壊れてしまうのではないかと心配になる(Bi0film.netという作品のワークショップでこのことを話した)。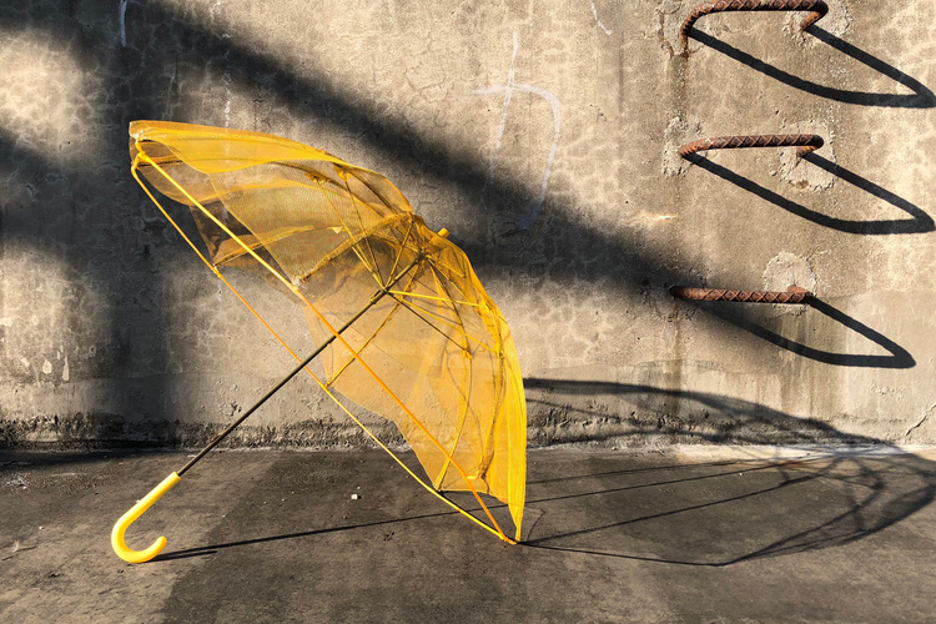 Bi0film (Credits: Jung Hsu)
アルスでは異なる空間が作られていた。戦争や政治的弾圧、気候変動やフェミニズムに関する展示や演奏は芸術の形式をとることで、その事実を人々に訴える力があった。例えば、ウクライナの音楽家による音楽作品Lullaby for Mariupolは、ロシア軍によるマリウポリ攻撃の衛星映像とその情景に対応した音で構成されている。苦しみ、痛み、不正、残虐性が可視化、可聴化、可触化することで、私たちはこれらの概念的な事実を認識し、共感することができる。
このような作品や演奏を前に、人々は議論を呼ぶような会話を頻繁にしていた。私はそこに、アートとテクノロジーが虐げられた人々の声に応え、世界を変える可能性を見出した。
異分野コミュニケーションと責任あるイノベーション
デザインの学生として過ごした6年間の経験から、デザイナーには社会の問題を解決する責任がある一方で、社会課題はあまりにも複雑であり一つのデザイン案で変えられることはあまりにも少ないと考えていた。博士課程に進学してからは別の角度――問題解決ではなく、意見交換、知識生成、行動のためのスペキュラティブな側面――からデザインを考えるようになったが、最先端の技術を使って社会・文化規範を問い直し、再構築することを目的とするスペキュラティブデザインの分野を眺めても、壮大なプロジェクトに圧倒されるばかりで、自分の研究に応用できるようなものを見つけることは難しかった。
ところが、アルスでアート作品に没頭し、見て、聞いて、議論した1週間の後に、ついに何かが見えてきたような気がした。それは、紙を使って織り機の仕組みを体験できるワークショップ(Weaving as Material Calculus)、体のパーツの形がランダムに印刷されたシールを作るスロットマシーン(BODIE:S)、体液を使って作物を育てるシステム(TerraPort)などの形で現れた。
異分野間の対話を通して日常的な問題に気づき、身近な技術を使ってアート表現に結実させる、そのような営みの終点に現実的な問題に向き合った責任あるイノベーションがあることが、さまざまな作品とその作者との議論を通して、実感できるようになった。アート、デザイン、サイエンス、テクノロジーを別個のものとして定義することを一旦諦め、日常生活の端々に見られるようにそれらを全体として捉えて異分野コミュニケーションを進めることが、私の研究の第一歩となるかもしれない。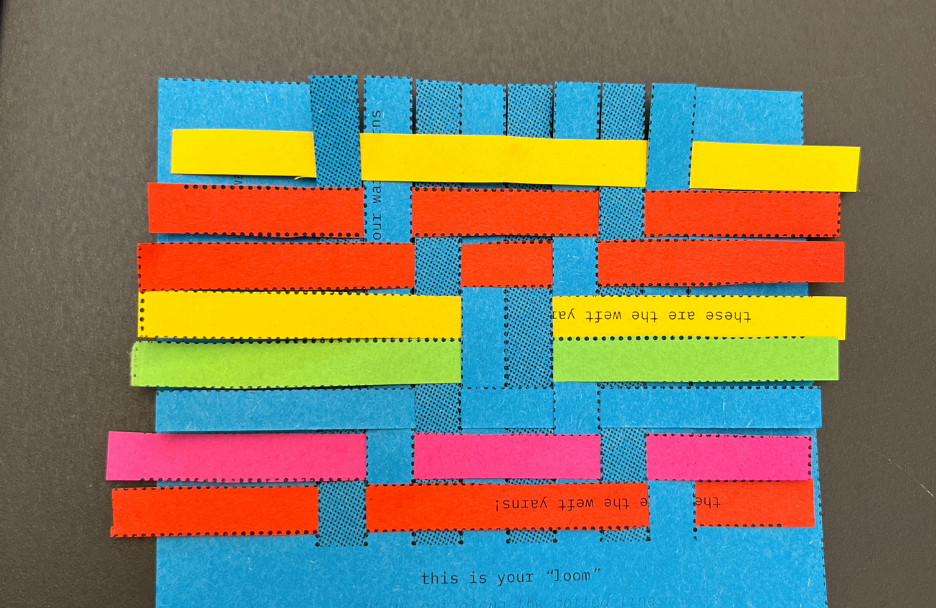 Weaving as Material Calculus (Credits: Chengtian Li)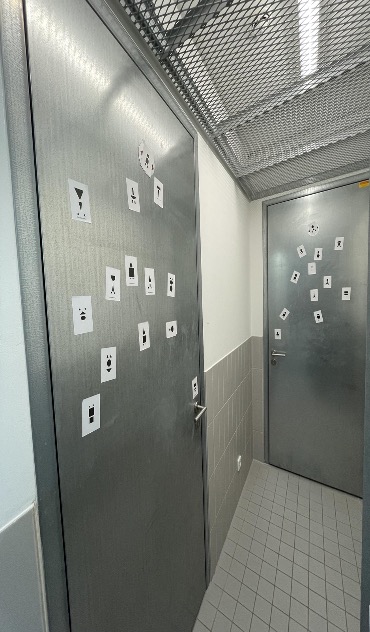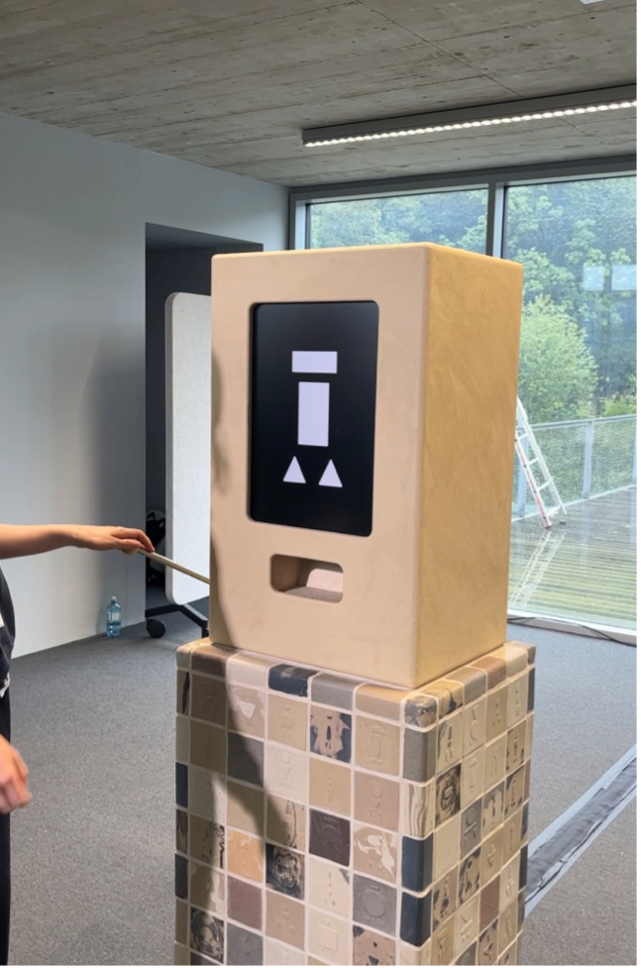 BODIE:S(スロットマシーンとシールが貼られたトイレのドア)
(Credits: Chengtian Li and Daichi Tezuka)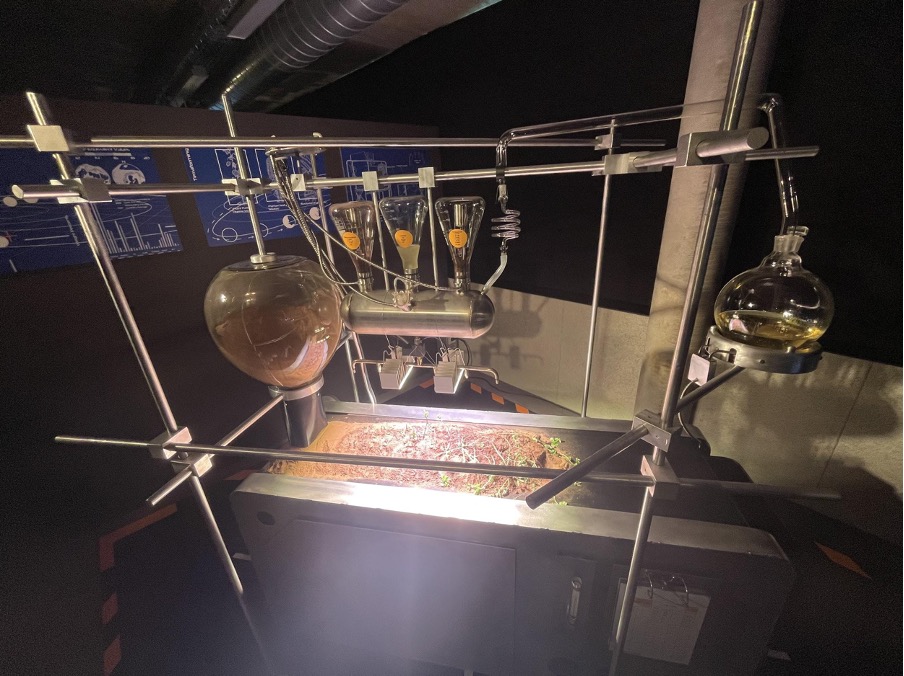 TerraPort (Credits: Daichi Tezuka)
まとめ
2回にわたり、2022年度のコンセプト・デザイニングとアルスエレクトロニカ・フェスティバル学生派遣をご紹介しました。これらの活動に参加した学生はどちらも、シナリオのない異分野・異文化コミュニケーションに飛び込み、サイエンス/テクノロジー&アート/デザインに関する創作と思考を縦横無尽に展開してくれました。そして、そこには常に社会に対する眼差しがありました。
アート/デザインを通してサイエンス/テクノロジーを説明することで知の民主化を促進する、サイエンス/テクノロジー&アート/デザインを組み合わせて社会の変化を呼びかける、アート/デザインによって社会問題を問うことでサイエンス/テクノロジーの未来を予期する、こうした気付きを得たことは、予測困難なポストコロナ期の社会の中でも人類の課題を見据えながら進む力になるのではないでしょうか。
学生たちの活躍を楽しみにしつつ、2023年度もサイエンス/テクノロジー&アート/デザインに関する教育・研究活動に取り組んでいきます。コンセプト・デザイニングのパートナーである武蔵野美術大学のみなさま、温かく学生を迎えいれてくださったアルスエレクトロニカのみなさま、いつもご協力いただいている教員ならびに事務のみなさま、活動を支援くださったDNPと東工大基金に深く御礼申し上げます。
2022 Ars Electronica Festival Student Dispatch
English Summary
The Tokyo Tech Foundation facilitated the participation of students in the Ars Electronica Festival, held in Linz, Austria, from September 4 to 12, 2022. This festival is a renowned global event that celebrates art, technology, and culture, focusing on media art. After two years of being held in a hybrid format due to the pandemic, the 2022 festival returned to on-site activities. The participation of Tokyo Tech students was made possible through the collaboration of researcher Kohei Kanomata from the Nohara Lab, who was part of the Ars Electronica training program.
The theme of the 2022 Ars Electronica Festival was "Welcome to Planet B: A different life is possible." The festival aimed to explore how life on Earth should be in the face of increasing environmental challenges. It emphasized the need to go beyond mere technological innovation and instead reimagine humanity itself through the integration of science, technology, art, and design. The Tokyo Tech students, three doctoral and three master's students from the Nohara Laboratory, took part in the concept designing program, engaging in interdisciplinary and cross-cultural communication.
During their visit, the students observed the strong connection between science, technology, art, and society emphasized throughout the festival. They witnessed exhibits and programs that demonstrated the role of art in promoting proactive action and fostering public understanding of science and technology. For instance, they highlighted the work "Neural Network Training" by Ars Electronica Futurelab, which visually and interactively showcased the inner workings of AI technology, enabling visitors to engage with it and deepen their understanding.
The students also noted the festival's open space for discussion, which encouraged dialogue and controversial conversations. Exhibits and performances addressing topics such as war, political repression, climate change, and feminism sparked conversations and raised awareness about these pressing issues. The students recognized the potential of art and technology to amplify the voices of the oppressed and bring about societal change.
Moreover, the students reflected on the importance of interdisciplinary communication and responsible innovation. They acknowledged the complexity of social issues and the limitations of a single design idea in solving them. Through their exposure to various artworks and creators at Ars Electronica, the students grasped the concept of responsible innovation that confronts real-world problems. They discovered the value of interdisciplinary collaboration and the integration of art, design, science, and technology in addressing societal challenges.
In summary, the Tokyo Tech students' participation in the Ars Electronica Festival provided them with valuable experiences in interdisciplinary communication, cross-cultural exchange, and critical thinking in the realms of science, technology, art, and design. The festival served as a platform for promoting the democratization of knowledge, advocating for social change, and envisioning the future of science and technology in response to societal issues. The students gained insights that will empower them to navigate the uncertainties of a post-pandemic world while addressing the challenges facing humanity.