A team from Central Saint Martins – University of the Arts London (CSM) visited the Tokyo Institute of Technology (Tokyo Tech) and two universities officially signed MOU. The two institutions will further promote collaboration in academic research, education, and university-industry partnership.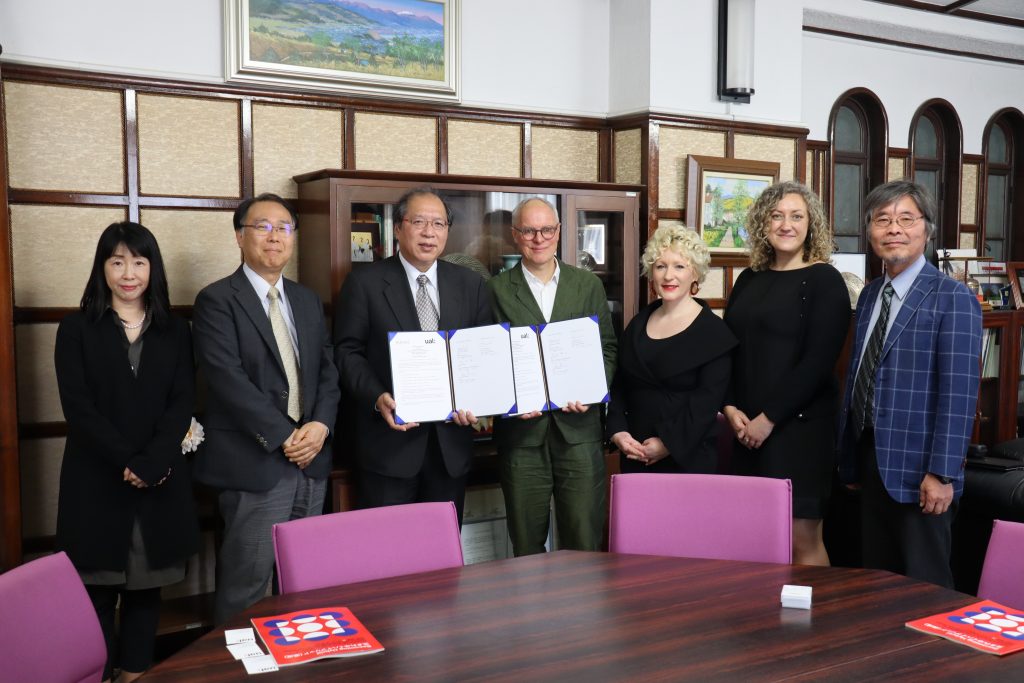 On May 15th, after a meeting between President Kazuya Masu of Tokyo Tech and head of CSM, Prof. Jeremy Till, the MOU signing ceremony
was attended by Prof. Norihiro Nakai (Dean of School of Decision Science and Technology), Prof. Yuji Wada (Dean of School of Materials and Chemical Technology), Prof. Mitsuji Sampei (Associate Dean of School of Engineering), Prof. Shigeki Nakagawa (Director of Office of Education and International Cooperation), Prof. Kayoko Nohara (School of Environment and Society, WRHI research member) from Tokyo Tech, and Prof. Till (Head of School), Rachel Dickson (Dean of Academic Programmes), and Gemma Proudley (International Partnerships Development Manager) from CSM. The participants from the two universities exchanged opinions on the further promotion of collaborative research and partnership.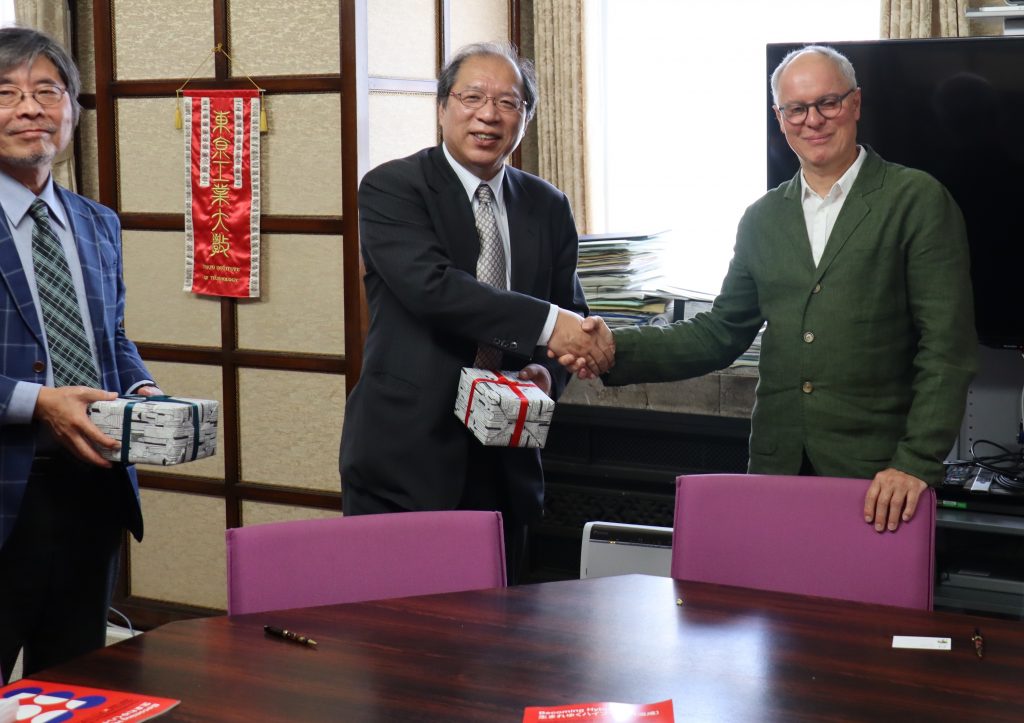 During the ceremony, the participants also discussed about the history of the two institutions, previous activities of the two universities' collaborative project in the past two years and a half, and existing examples of science/technology and art/design collaborations in Japan and the U.K. Presents were also exchanged. Prof. Till from the background of architectural studies explained the choice of wrapping paper of London's city skyline to Prof. Nakai with specialty in urban studies. The ceremony was carried out in a witty and pleasant atmosphere.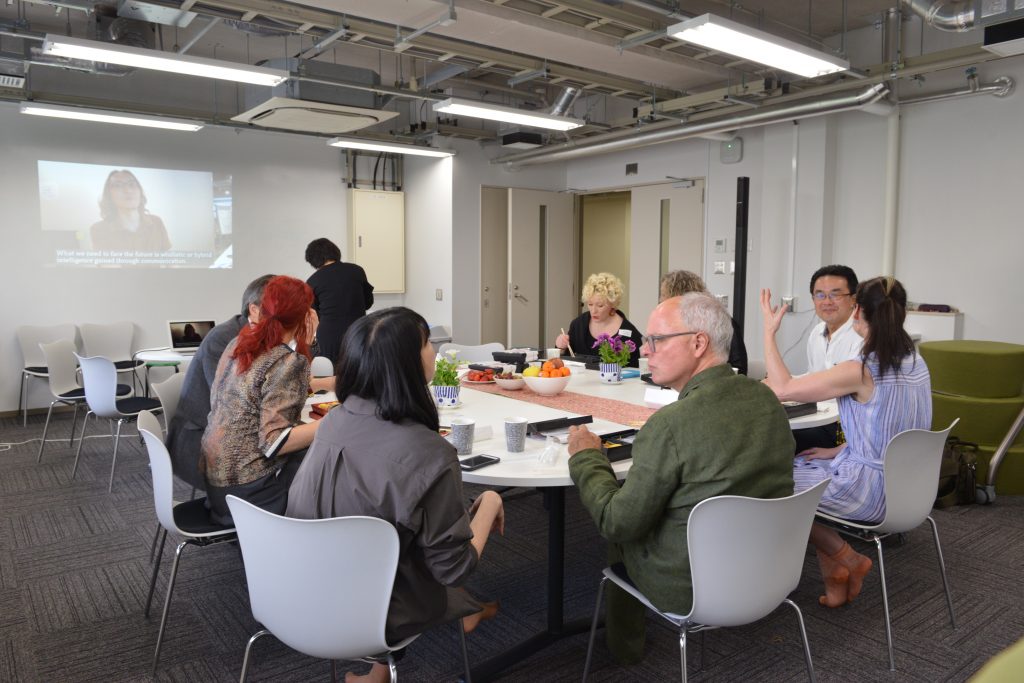 Following the signing ceremony, a luncheon meeting was also held. Joined by Prof. Nohara, Prof. Nakagawa, Prof. Shinya Hanaoka (School of Environment and Society) and Prof. Masahiko Hara (School of Materials and Chemical Technology) from Tokyo Tech, and Prof. Till, Ms. Dickson, Ms. Proudley, Dr. (Reader) Betti Marenko and Dr. Ulrike Oberlack (also Project Professors of WRHI) from CSM, the event was held in South Bldg. 5.
Sharing the same venue as the colloquium carried out on the previous day, May 14th, the faculty members reflected on the LEGO works made during the workshop of the colloquium to consider the methodology of Transdisciplinarity and the videos of the previous activities and events. The members all look forward to the future collaboration and strengthened partnership after the official start of the signing of MOU.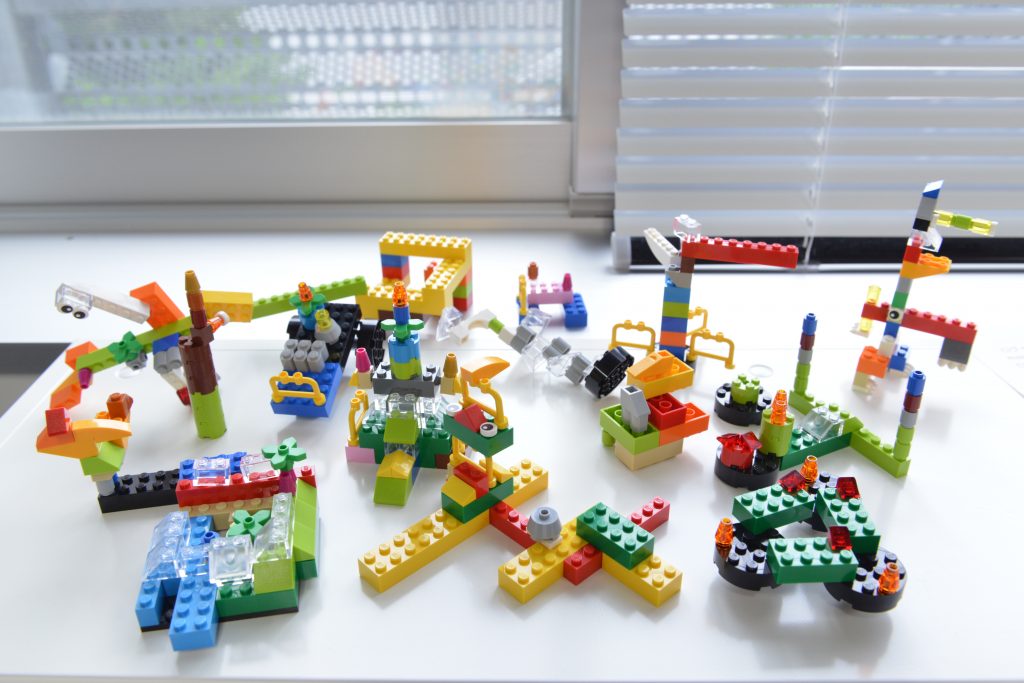 LEGO works made by participants at yesterday's Colloquiam workshop. Photo © TiTech 2019
---
ロンドン芸術大学セントラル・セント・マーティンズ校(CSM)から、校長含む訪問団を迎え、5月15日に、両大学は正式にMOUを締結し、学術・教育・産学連携などで協力していくことになりました。
益学長・ティル校長との会談ののち、署名式には、東工大から中井検裕教授(環境・社会理工学院長)、和田雄二教授(物質・理工学院長)、三平満司教授(工学院副学院長)、中川茂樹教授(工系国際連携室長)と野原佳代子教授(環境・社会理工学院、WRHI研究メンバー)、CSMからはジェレミー・ティル校長、レイチェル・ディクソン教務部長、ジェマ・プラウドリーUAL国際連携主任等が署名式に参加し、両校によるさらなる共同研究の推進とパートナーシップ強化に向けて意見交換が行われました。締結式の間、両校の歴史、過去二年半の活動歴、と日本とイギリスにおける科学技術とアート・デザインのコラボレーションの事例が共有され、プレゼント交換も行われました。建築学専門のティル校長が都市学の中井教授へ、ロンドン市のスカイラインの模様が施されたプレゼントのパッケージについて説明し、締結式がウィットに富んだ会話と和やかな雰囲気の中で進められました。
締結式終了後、両校の関係者が南5号館で会食に参加しました。東工大から野原教授と中川茂樹教授をはじめ、花岡伸也教授(環境・社会理工学院)と原正彦教授(物質理工学院)、CSMからティル校長、ディクソン教務部長、プラウドリー主任、ベティ・マレンコWRHI特任教授、とウルリケ・オバーラックWRHI特任教授が一堂に会しました。前日(5月14日)のコロキアムの一環として行われた「融合」を考えるワークショップで、参加者が組み立ていたレゴ作品と過去の活動の映像もみながら、会話を交わし、親睦を深めました。今後さらなるの連携による新たな展開と研究成果を期待しています。