HYBRID INNOVATION:A VISION BUILDING WORKSHOP will be offered.
ART AND DESIGN MEET SCIENCE AND TECHNOLOGY
13:00-16:30, 9 Jan 2020 @407A Workshop Room, South 5
We are a multidisciplinary team made of a designer, a translation/facilitation expert and a theorist working across art and design, science and technology and the humanities. We have been working together for years developing new research, educational and communication methods that bring together different perspectives from our respective fields and across several cultures. We have run a range of activities including academic symposia, hackathons, workshops and public events for different expert and non-expert audiences, in Tokyo and London.
With this workshop taster we want to share with you some of the insights we have been developing to address this urgent question:
how can we imagine alternate futures?
Most important for you, our guests, how can our methods and insights be mobilized to help you amplify your capacity for innovation, to think about the futures you want and to ask new questions about the values that matter to you and to your company.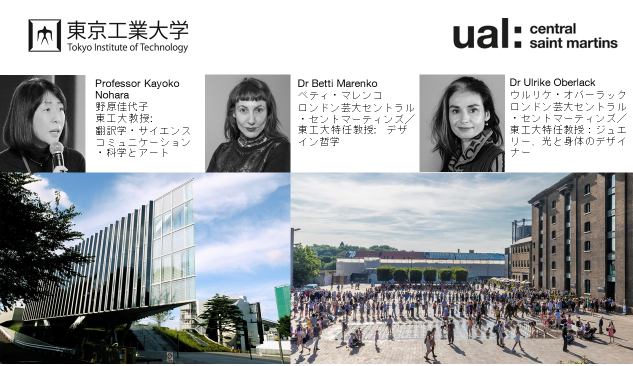 ---
HYBRID INNOVATION:A VISION BUILDING WORKSHOP
ハイブリッドイノベーション企業向けビジョン構築ワークショップを実施します。
ART AND DESIGN MEET SCIENCE AND TECHNOLOGY
アート/デザインと科学技術が出会うとき
2020年1月9日 13:30-16:00
東工大大岡山キャンパス 南5号館407A
科学技術/デザイン/哲学/翻訳・コミュニケーションなど、日英のマルチ分野のスペシャリストをそろえた東工大xCSMチームが、「科学技術&アート/デザインを人文科学知を用いてつなぎながら未来を思考する方法論」を「ちょこっとだけ」シェア(taster=味見です)。
世界は、コミュニティは揺れ動いています。どう未来を「想像」し、それに向かって自分たちを変えていくか。私たちはまだ、間に合うのか。
イノベーションを起こすキャパシティ、未来をささえ、社会にとって意義のある価値と変革を生み出すビジネス、そしてそれぞれの生き方に思いを馳せる、小さな時間を体験してください。[:en