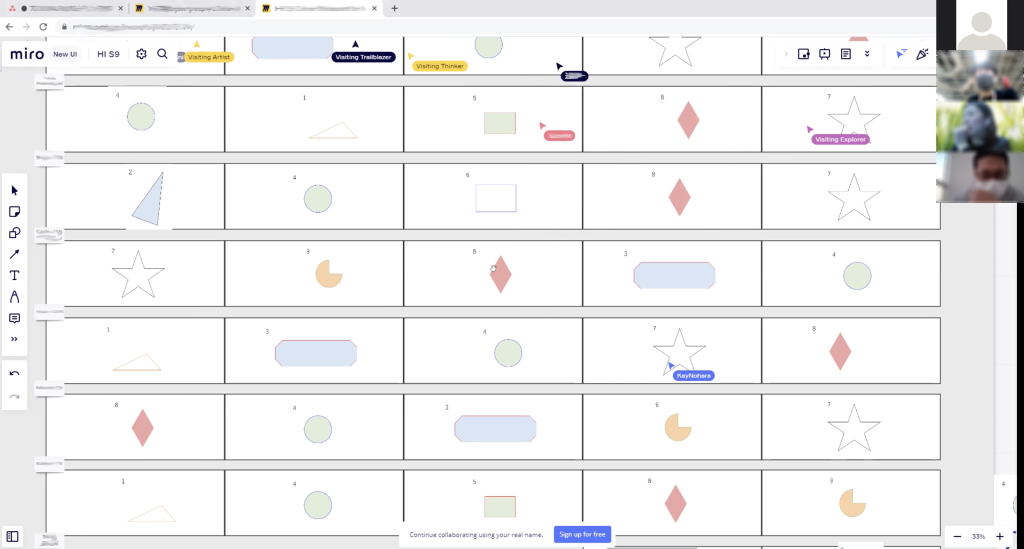 東京工業大学とロンドン芸術大学セントラル・セント・マーティンズ校(以下CSM)によるコラボレーションプログラム 未来を創る"Hybrid Innovation"の セッション9が、2022年2月22日(火)に開催されました。
セッション9では経営工学の専門家、妹尾大教授を招き、多様性を考えるエクササイズを参加企業の方々と共に行いました。幾何学的な図形を利用して、形や色、角数など異なった観点からの組み合わせを考え、多様性を考察していきました。
多様性作りにおいて、判断の要素を一つに絞ると別の視点からは単一に見えることがあります。今回行なったエクササイズでは図形を例に、多様性そのものの意味を探り、チーム作りやアイディアをまとめる実務作業に活かせる思考方法を学びました。
本プログラムでは、企業の皆様に、"Hybrid Innovation"へのプロセス、即ち"マルチコミュニケーション"を体現していただき、それぞれの境界を超え、「知の融合」と「発想転換」を体得していただきます。そして本プログラムへの参画が各企業様のイノベーション創出に繋がっていくことを目指しています。
プログラム概要
https://www.tse.ens.titech.ac.jp/~deepmode/csm/blog/未来を創るhybrid-innovation/
対面/オンラインを柔軟に用いたセミナー、ワークショップ、ものづくり、実験、クリエイティブコミュニティ活動など。最終シンポジウムも開催します。
過去のセッションについては以下のリンクからご覧ください。
Session 1, Session 2, Session 3, Session 4, Session 5, Session 6, Session 7, Session 8
E-mail : tokyotechxcsm@tse.ens.titech.ac.jp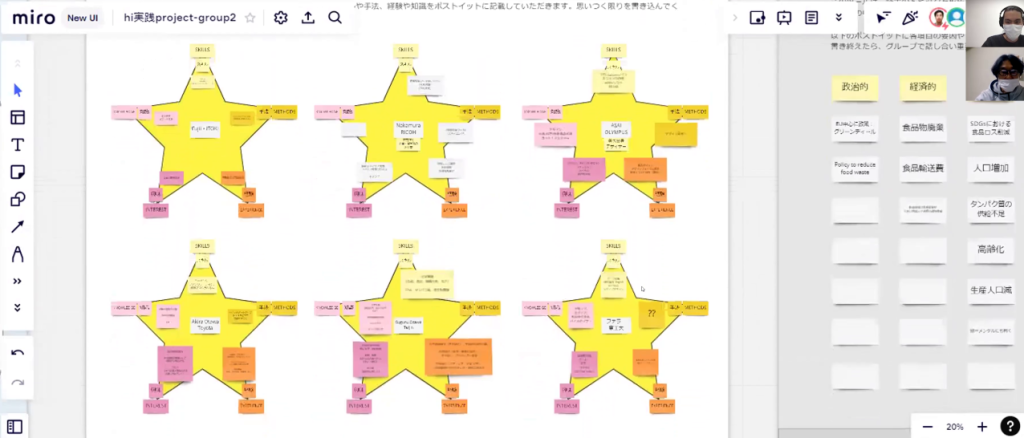 The ninth session of the "Hybrid Innovation" collaboration programme between Tokyo Tech and Central Saint Martins College of the Arts London (CSM) was held on Tuesday 22 February 2022.
In Session 9, Professor Dai Senoo, an expert in management engineering, was invited to conduct an exercise on diversity with the participating companies. In this session, participants used geometric figures to consider combinations from various perspectives, such as shape, color, and number of corners, and discussed their diversity.
In creating diversity, elements considered in making decisions can appear unusual from another person's perspective. In this exercise, participants practiced the meaning of diversity by using shapes as an example, and learned thinking methods that can be applied to practical work, such as team building within and between companies.
In this program, companies embody the process to Hybrid Innovation. This merges "multi-communication" to transcend disciplinary boundary, promote the fusion of knowledge and change mindsets. The programme also aims stimulate innovative strategies in each participating company.
Activity period: October 2021 to April 2022
PROGRAMME CONTENT: Seminars, workshops, manufacturing, experiments, creative community activities, etc. that flexibly use face-to-face and online. A final symposium – open to participating companies and the public – is scheduled for April 2022.
https://www.tse.ens.titech.ac.jp/~deepmode/csm/blog/未来を創るhybrid-innovation/
You can find blogs on previous sessions here: Session 1, Session 2, Session 3, Session 4, Session 5, Session 6, Session 7, Session 8.
For info please contact: tokyotechxcsm@tse.ens.titech.ac.jp