If you are looking for something more than just vising labs, this cafe event is for you! Anyone is welcome to attend.
Your view on science major – Creating a benchmark on humanities vs science majors
Facilitator:M1 Amisaki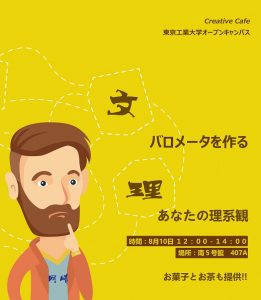 Yuki
Staff: Nohara Lab members
Time: 12:00-14:00
Place: South 5 407A(Workshoproom)
Cost: Free of charge
What's a humanity major like? How about a science-engineering major? Or you may consider yourself an art major. Taking a quiz on humanities vs science majors might help you find your own traits that you are unaware of.
How many axes does a person have? Does dividing have a meaning?
If you are tired from walking around the campus, stop by at Nohara Lab Creative Cafe for discussion with tea & sweets!