Tokyo Tech Visionary Project is a compulsory course for all new undergraduate students. It is a course that encourages students' self-discovery and aims to motivate students to set their individual goals. In the very first lecture of the Visionary Project course 2023 on April 17th, we received an honor from Mr. Raymond Wong to share about social innovation and philanthropy.
He has extensive experience working in many financial companies worldwide in various product trading and sales roles. However, what made him unique is his multi-cultural background: he was born in China but raised in Japan, studied in an international school, went to university in the US, and worked with multicultural teams in companies. Once he was successful in his career, he didn't stop there but he eventually started to run "the R & P foundation for future diversity" to further spread opportunities in business for other organizations and start-up companies. He is undoubtedly an extraordinary individual since he also completed the 2016 Ironman world championship and 6 major marathons in the world!
Jinna, a GSEP 2023 batch student from Thailand, will share her experience and her thoughts from Mr. Wong's lecture.
What did he teach and what did I learn?
In the beginning of the lecture, Mr. Wong has asked us to share our thoughts on one of the four articles including "Ending Period Shame and Poverty in Asia", "An Experimental Approach to Early-Stage Nonprofit Governance", "In Search of Inclusive Social Entrepreneurship", and "Silicon Valley startup culture is changing philanthropy". I selected the fourth article which is all about the evolution of philanthropy within the tech startup. While traditional philanthropy has focused on large-scale donations by establishing foundations, a new generation of entrepreneurs incorporates social impact and philanthropy into their business models from the start rather than waiting until they become wealthy. Before reading the article, I had no idea what philanthropy is, however this article gave me a good visualization of philanthropy which sounds essential for a sustainable and impactful approach to societal issues.
Mr. Wong also talked about the building of his character, his career in Finance, and his core values in life. It is truly amazing to discover that his unexpected events, such as taking a gap year, have played pivotal roles in shaping his personal narrative and fueling his motivation to progress in his career and embrace risks in order to seize opportunities. Sometimes, unexpected events can also make us look at different angles and drive us through different circumstances that we have never expected.
Then, moving to the main topic of the day – "Philanthropy", Mr. Wong explained that philanthropy is similar to charity but the difference is that philanthropy addresses the root cause of social issues by a more strategic and long-term approach. Nevertheless, both terms share one main thing in common: they're all about spreading love. Another two terms Mr. Wong introduced to us were ESG (Environmental, Social and Governance) and Impact investment. In order for organizations to understand the status of their risks and opportunities around sustainability issues, they should look at ESG and Impact investment. Briefly, ESG is a framework of current status while Impact investment is a strategy of future status.
Lastly, Mr. Wong discussed about giving in Japan compared to the US and UK. By Furusato Tax mechanisms (A system wherein residents in Japan can donate money to any city they choose and, in return, receive tax deductions and specialty gifts from that city), Japan has shifted from charity to philanthropy. However, Japan's philanthropy, which accounts for 0.23% of its GDP, still lags behind the figures in the US (0.47% of GDP) and the UK (1.55% of GDP).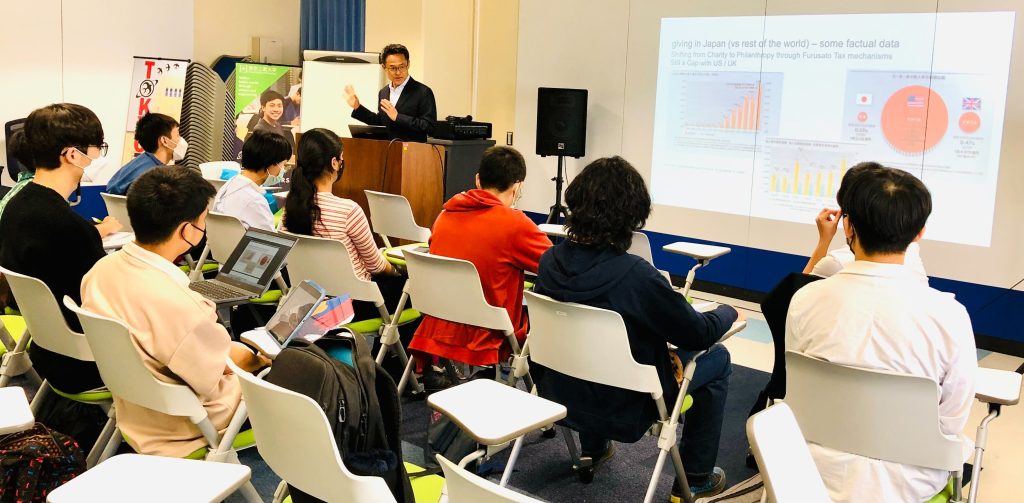 My reflection about lecture / How can I apply this knowledge?
During the discussion class following the lecture class, we discussed that charity and philanthropy are both important to deal with social issues in different dimensions. For example, in the case of a disaster such as an earthquake, the immediate needs for charity of the affected victims include access to clean water, food, and shelter. However, in the long term, philanthropic response is required to restore the extensive infrastructure damage (such as buildings, public transportation, roads, etc.), address economic crises, and provide healthcare services.
From Mr. Wong's lecture, I gained insights into the importance of embracing new cultures and unexpected life events, while recognizing their positive aspects. Additionally, I learned the significance of spreading love within society whenever the opportunity arises. As a scientist or engineer, I will consistently integrate this concept into my projects and endeavors, aiming to foster a society characterized by joyful diversity and equality.