Mikael Wijaya (Kaka) / Ayoob Ilyas (Ayoob)
Hello! Kaka and Ayoob here! We are 7th batch GSEP students currently in our second year at Tokyo Tech. In this blog, we will share our experiences as two among many passionate organizers behind an unforgettable event—the eagerly anticipated Tokyo Tech International Student Association (TISA) 2023 Spring Welcome Party. In this blog post, we want to take you on a personal journey, sharing our experiences, challenges, and the profound impact this celebration of diversity has had on both the students and ourselves.
As students of Tokyo Tech, we feel that it is very easy to fall into the loop of regular study routines and the rigorous academic life which admittedly, could feel quite monotonous and stressful at times. Another aspect we recognized is that international students in Japan feel that there are language and cultural barriers that make it challenging for them to find opportunities for extracurricular activities, as almost all of the clubs and circles within Tokyo Tech are run by Japanese students and use Japanese for communication.
On the other hand, a lot of Japanese students are seeking opportunities to interact with a diverse group of international students to develop language and social skills but find it difficult to approach international students one by one due to the aforementioned barriers. So, it became a personal endeavor for us to find ways to provide activities that offer international and Japanese students a chance to experience a vibrant, joyous atmosphere to forge connections and find solace in a diverse community, fostering balance and well-rounded growth for every student beyond academic excellence.
Among the many events we do every year, there are a few that are our most anticipated ones. The TISA Welcome Parties are always the highlight events of each season—spring and autumn. The most recent one was our Spring Welcome Party, held on the 18th of May, 2023.The journey began in March, as we eagerly started planning for this special occasion. We held regular meetings, collaborating on official proposals and event plans that needed approval from the university. Countless emails were exchanged, and we made adjustments to our budget and schedule along the way.
Once the logistics were sorted out, we shifted our focus to inviting everyone. We aimed to gather around 200 participants, fostering relationships and promoting socialization between the international and Japanese communities at Tokyo Tech. We got creative, reaching out to different clubs and student organizations to spread the word through posters, forms, and email newsletters.
But our efforts didn't stop at planning. Despite the optional COVID guidelines, we wanted everyone to enjoy a meal together. With the help of the CO-OP and Student Support, we arranged for meals to be provided. For a party to be memorable, just having great food isn't enough. The next part is brainstorming games and activities. Each member puts forward their ideas and experiences with different activities, from which we decide the games to do. The pictionary, quiz and telephone games were chosen in this manner after countless discussions.
After every aspect of the party was finalized, we divided the work and assigned everyone different roles, receptionists, game managers, you name it. Contingency plans are made and substitutes are assigned for different roles, just to be prepared for different scenarios. We also wanted to ensure that everyone involved with running the event is familiar with what they are getting into, so we ran multiple rehearsals of the welcome party, testing how the planned activities performed in practice and making some revisions with their mechanisms as deemed necessary for their guaranteed success.
The event itself has proven to be a huge success not only for us and the other organizers, but also for all the participants involved, no matter what background they are from. A tour around the venue during the event shows everyone being able to meet new friends from different backgrounds and get to know each other through our BINGO game where participants try to find who fits certain descriptions, and enjoy the various games that were planned for the event. Then, Tokyo Tech President Kazuya Masu and Tokyo Tech Alumni Association (Kuramae Kōgyōkai) Chairman Mr. Kiyoto Ido also gave speeches and took a group photo together with all the participants. After that, dinner was served and the participants had free time to talk with each other, before having another game together. Finally, the winners of the games were announced and they received prizes in the form of Tokyo Tech Merchandise. Also, the organizers, we cleaned the venue and put everything where it was before.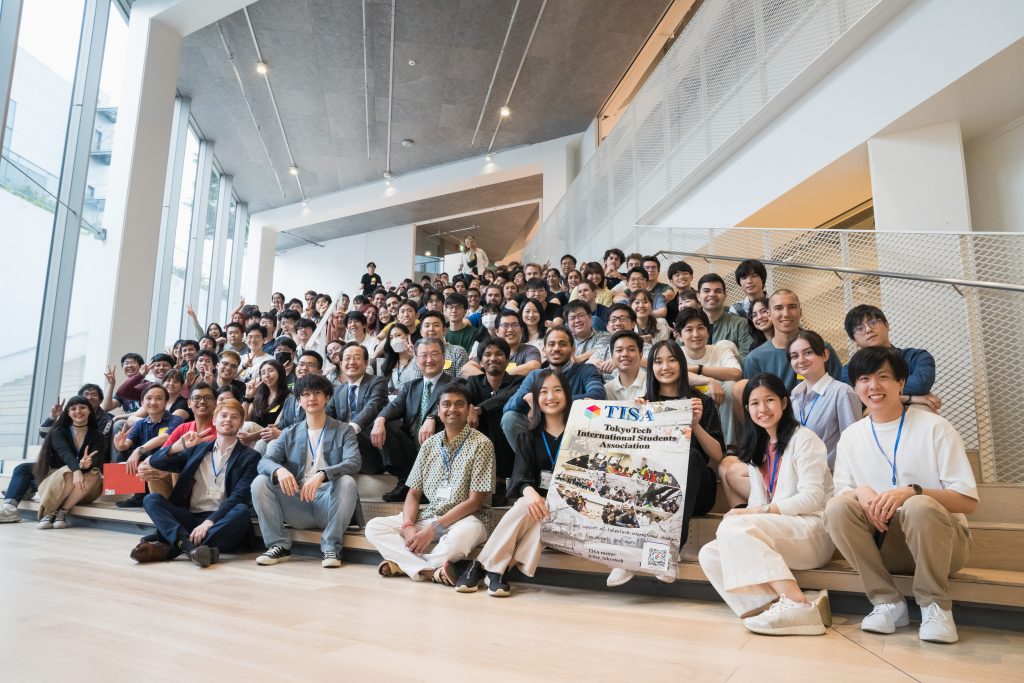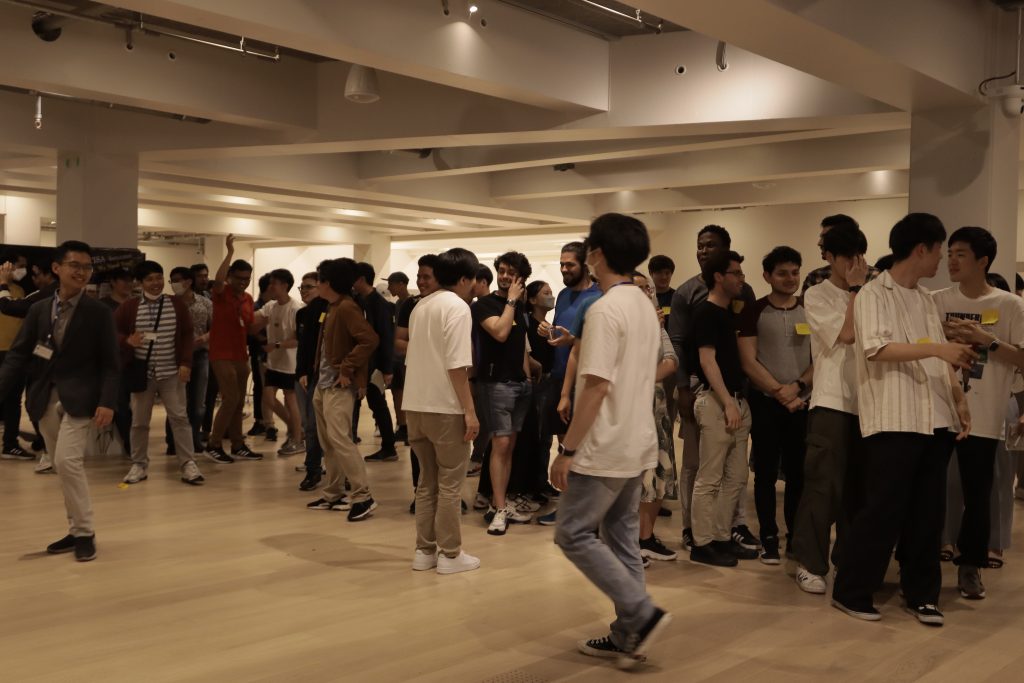 Thus, these events are a testament to our passion for creating memorable experiences and bringing people together. We invite you to join us in this exciting journey, where enthusiasm, collaboration, and a touch of magic combine to make lasting memories.
For us, the Tokyo Tech International Student Association (TISA) provided many opportunities that align with those aforementioned personal goals. Our involvement with TISA has allowed us to pursue our personal goals of promoting inclusivity, socialization, and personal growth. Through our efforts, we hope to inspire others to embrace diversity and create opportunities for meaningful interactions within their own communities.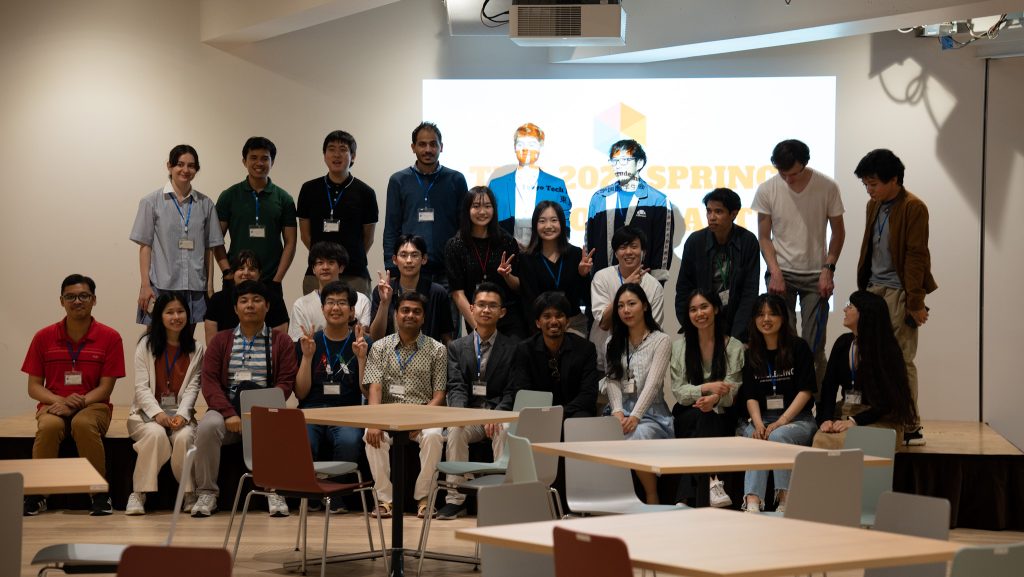 We are grateful for the support of the Tokyo Tech community, the CO-OP, Student Support, and all those who contributed to the success of the Spring Welcome Party. It is our shared enthusiasm, collaboration, and a touch of magic that made this event truly memorable. As we continue on this exciting journey, we invite others to join us in creating more unforgettable experiences and bringing people together.
Click here to discover more about TISA.