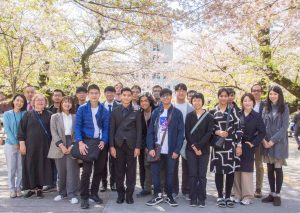 On April 4th, 2023, it marked the day of the new beginning for the GSEP 8th batch students. This is the first time after COVID-19 that we had the face-to-face welcome ceremony for new GSEP students. All of 11 GSEP 8th batch students have safely arrived to Tokyo and entered the Umegaoka dormitory day earlier by the kind guidance of GSEP seniors.
Starting the day, GSEP 8th batch students were gathered in front of the main building. We took pictures together with GSEP seniors and GSEP faculty members and staff with a beautiful scenery of cherry blossoms and Tokyo Tech main building. All students attended the welcome ceremony where President Kazuya Masu delivered the warm welcome speech. After that, GSEP students had lunch together with relaxing time chatting with others.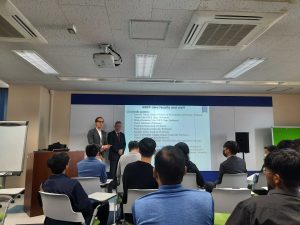 In the afternoon, there was an orientation for new GSEP students. Prof. Naoya Abe, the current GSEP chair, briefly introduced about Tokyo Tech which students could learn more not only about the history of Tokyo Tech but also the overview of the GSEP program. Next, GSEP core faculty members and staff gave self-introduction following by the self-introduction of new GSEP students from various countries, including, Thailand, South Korea, Indonesia, Canada, Vietnam, India, and USA. They have shared different topics with others, for example, their favorite subjects, hobbies, the reasons why they selected to enter GSEP, etc. GSEP senior students also gave a brief self-introduction and useful suggestion and tips. Prof. Abe has also kindly mentioned and emphasized many important aspects, including, the importance of taking Japanese courses, the research ethics education, their academic advisors, the students' timetable for the first quarter, and health and mental well-being. After a long day of orientation, students had some time to relax and enjoy snacks and soft drinks during tea time break.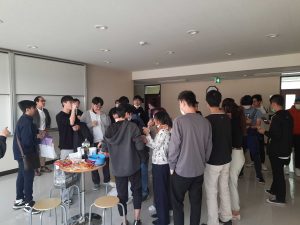 After that, Prof. Jun-ichi Takada, the current Dean of the School of Environment and Society gave a warm welcome speech in English followed by Prof. Takehiko Murayama, the current Chair of the Department of Transdisciplinary Science and Engineering. Prof. Murayama has kindly mentioned the importance of communication not only with other international students but also with other Japanese students in which GSEP students would have a good opportunity to meet them on the day of bus tour to various interesting places on April 7th, such as JICA. Both professors emphasized that students should enjoy the school life at Tokyo Tech. After their warm welcome speech, we had a nice group photo together with Prof. Takada and Prof. Murayama.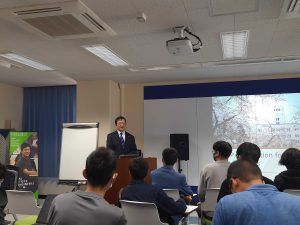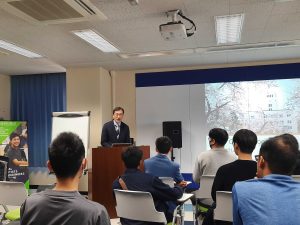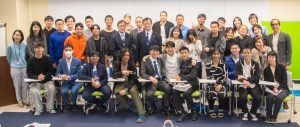 Next, GSEP students who are the representatives from different students-oriented organizations in Tokyo Tech have briefly introduced each organization and many interesting activities that international students might be interested in.
First, Ivan and Wave, two representatives from the Student Association for Global Exchange (SAGE) have briefly introduced the purpose of this organization which focus on the cultural exchange between Japanese students and international students through different types of interesting activities, for example, orienteering, mountain climbing, solving mission while sightseeing, speech contest, etc. More information can be found from https://sage-titech.com/index_e.html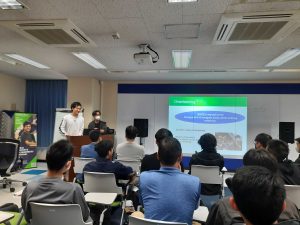 Not only SAGE, Tokyo Tech also has another organization that would benefit international students named Tokyo Tech International Students Association (TISA). Kaka, a representative of TISA, has also briefly introduced a lot of interesting activities that students can meet a lot of new people and make new friends, such as hanami (picnic while enjoying cherry blossoms during Spring), karaoke night, enjoying illumination, etc. The upcoming event would be 2023 Spring welcome party! More information can be found from https://www.facebook.com/TISA.TokyoTech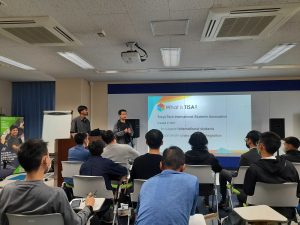 Last but not least, Ayoob, a representative from Taki Plaza Gardener (TPG), has explained about this student-oriented organization which operates directly under the Taki Plaza Steering Committee. They create a space to host fun activities and aim to connect to more students within the university. The examples of their fun and creative activities include experiencing different cultures, wind chime creation, and the music festival in the open air. More information can be found from https://www.tpgd.jp/
After a long day, GSEP 8th batch students have learned a lot about Tokyo Tech, GSEP, and many students-oriented organization. Once again, we are very happy to welcome GSEP 8th batch students face-to-face and we hope students will enjoy staying in Japan and studying at Tokyo Tech!