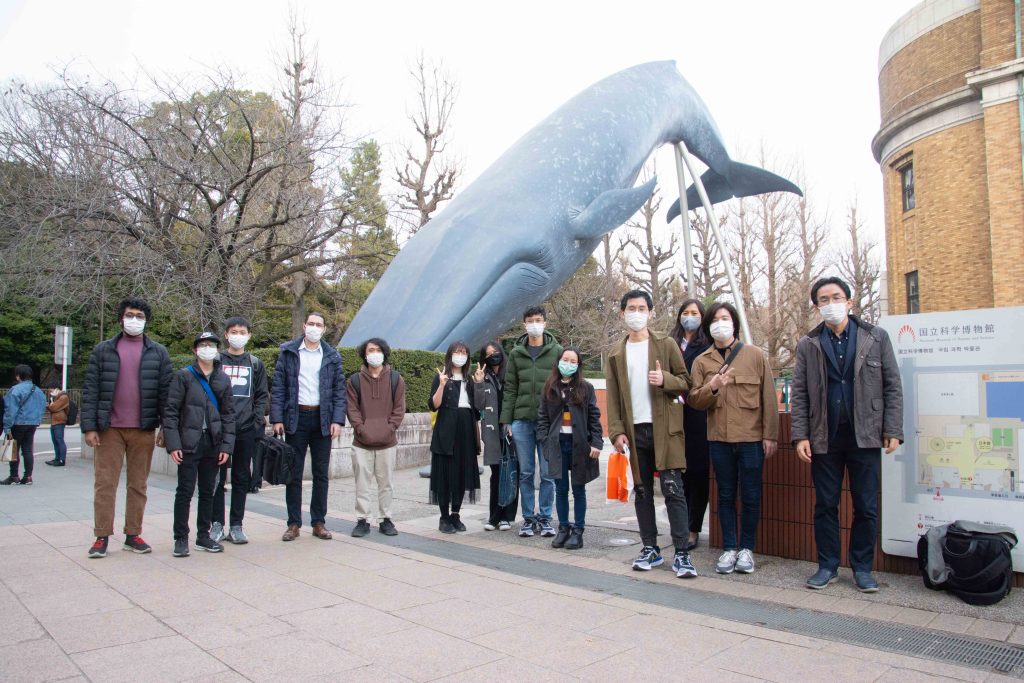 Last March 2, 2022, GSEP students, together with their teachers, visited Edo-Tokyo Museum and National Museum of Nature and Science, Tokyo. Below, 6th batch students, Le Cong Minh Hieu, Ivan Andrew Gunawan, and Thanaphat Lertmongkhon report of their experiences throughout the day.
---
Edo-Tokyo Museum by Le Cong Minh Hieu
During the spring break, GSEP faculty and staff organized a trip for the students of the program. Initially, we were going to have a 3-day trip to Sendai, and everyone was very excited about it. Unfortunately, the number of new cases of the COVID-19 virus has increased dramatically. To adapt to this serious situation, we had to change the trip to a one-day study tour around Tokyo, specifically the Edo-Tokyo Museum in Ryogoku and the National Museum of Nature and Science in Ueno. Honestly, when I was notified about it, I was disappointed because it was not as interesting as the initial plan. But on the positive hand, this is still a great chance for me, as well as my fellow GSEP freshmen, to communicate with each other and also explore more Japanese culture. Therefore, I still decided to join this trip.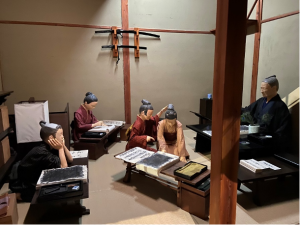 In the morning, we visited the Edo-Tokyo Museum. Like most international students, I decided to study in Japan because of the wonderful Japanese culture formed along with the long history of this country. However, even though I have been in Japan for 8 months, it is still difficult to see these traditional aspects in daily life. The Edo-Tokyo Museum absolutely satisfies my desire to explore the traditional features of Japan. From the outside, the museum looks like a normal building and is even quite modern. However, the moment I entered the museum, I was overwhelmed. It seemed that I had been transported to another era, Japan from the 17th century to the 19th century.
The Edo-Tokyo Museum simply brings all the features of Japan during the Edo period and the post-Edo period into a closed space. Nevertheless, these features are finely choreographed with extreme precision. These characteristics include the most visible details in daily life, such as architecture, costume, inventions, and social segregation, not only for the upper classes, such as the "shoguns," but also for ordinary people. This comprehensively depicts the most brilliant period of Japan's history. For someone like me, who is interested in history and always wants to explore new cultures, the Edo-Tokyo Museum is actually an appealing destination.
At the time spent in this museum, what left me most impressed was the detailed architectural staging at a high level of accuracy. The wooden bridge, the old buildings, and the ancient castle were reconstituted as models with clear and intuitive details. Moreover, human factors are also emphasized throughout almost all the display frameworks and models in the Edo-Tokyo Museum. This brought life to the exhibition and makes it all the more attractive. The expression of the change in Japanese culture, along with its history, also makes me very excited because I can not only explore the interesting cultures in different spaces but also see how they change according to time. That experience was amazing.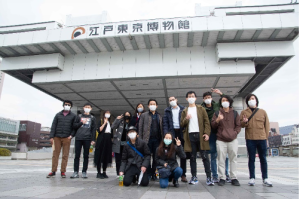 Even though this is still a purely historical museum, it provided me with a novel feeling and excitement throughout my visit. In the end, I can not say I had any complaints about this trip. We also took some photographs together and kept them as a great memory.
After exploring the Edo-Tokyo Museum, we had lunch together and then moved on to the next places.
---
Exploring Ueno Park by Ivan Andrew Gunawan
The group went on to Ueno Park as its next destination. In this park, where the final objective of the trip resides, students were left to freely explore this wondrous mass of land filled with bountiful attractions. To the dismay of many, the park was not in full bloom as the pandemic led to the closing of several attractions like the two zoos. Nevertheless, the transition from winter to spring left quite the serendipitous sight for those who happen to be around. You could see lining the pathways of the park, inklings of pink and bright atop trees with barks of dark, an indication of what is to come. Yet the scent of winter remained and left its mark on the park's ecosystem. Withering lotuses decorate the ponds as a remnant of the cold winter waters. Truly a large contrast for the upcoming springtime, warm and promising, but pollen-ridden.

The group broke off and navigated to where their consciousness called them, it seemed apparent that the ponds were of large interest to many. What allure did it hold? To have gathered many in its front door. Perhaps the boats on the docks arranged in such a fashion that a phalanx would be described.  Or was it the skyscrapers opposing the scene of the pond? Maybe it was the image of serenity that water normally brings. Each to their own, the pond found no shortage of spectators.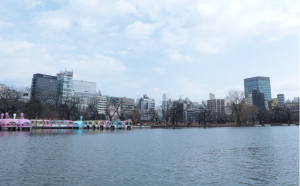 At certain places in the park, street performers are ready to display their act, demonstrating their skills with cards, magic, and balancing tricks. More often than not, these performances ended with applause and cheers from nearby crowds, including those who paid no attention to what had just happened. Some students went to the shrine and temple in which people can pay their respects. Although the beautifully constructed wooden architectures of Japanese shrines never fail to suffice as eye candy for those visiting without a religious purpose.  Red 鳥居 torii lined up in the foreground of the Hanazono Inari Shrine made for a dramatic entrance to the marvel that lies inside. Much like a hidden sanctuary, this shrine guarded the already blooming cherry blossom trees that are difficult to find in any other area of the park.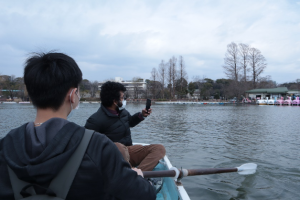 Two other first year students, Ban and Fahim, successfully dragged me onto a paddle boat rentable from the pond's boathouse. They were so adamant about having enough time to get on it when all I could think of was risking my camera falling into the pond. Observing your surroundings when you are on land and on the water provides for two very different experiences. To put it in the simplest way possible; on the water, I felt detached. Strangely enough, I was swept away by the atmosphere to the point that we swapped places on the rocking boat because all of us wanted to try our hand at rowing. Suffice to say, I am glad that I went on the boat.
Many of us went our separate ways, enjoying different aspects of the park in our own indescribable way. Nevertheless, it was time we returned to our rendezvous point.
---
National Museum of Nature and Science by Thanaphat Lertmongkhon
After a long travel, we have arrived at the National Museum of Nature and Science. Even if I was exhausted, I was still looking forward to seeing the beauty of science and expected that this is the highlight of today's trip. As I am an Earth science enthusiast, the first exhibition of the global gallery is full of rare rock samples that I have read about it since I was in elementary school but never seen up close in real life. This place does not disappoint me at all. They also provide the rough detail and the model organism of the evolution in every kingdom of the organism.

On the second floor, I was surprised by a number of sophisticated technologies. This floor exhibits the efforts of technological advancement by people who try to understand and describe nature. Among them are the application of electromagnetism to geological structure investigations, ocean-bottom seismograph measurements for the earthquake early warning and research in geological research, and many more space exploration technologies. Surprisingly, there is a technology developed by a professor in our university!
Due to the shortage of time, I had to rush into the Japan gallery. They represent a complete geological history and the native species in Japan's islands. In this section, I found that it is one of the most impressive museums that I had ever been to in my life. The entire Japan geological map illustrates different types of rock with the real rock themselves, a mineral collection with plenty of uncommon minerals, and an entire room full of fossil samples. These make me want to spend more time with it, and I think that I can be in this gallery for the whole day looking at the samples and studying more about it.

In my opinion, this trip will be one of my precious memories of studying in Japan. It is the opportunity for us, first-year students of GSEP and senior students, to meet each other, to discuss many topics and ideas in both science and history. Although it is quite disappointing that the original trip was changed, we still shared wonderful memories together. This trip can also mean that knowledge and fascination can be achieved from everywhere. We learn history from what people have done and change it in a better way. We appreciate the efforts of the former generations, apply, or improve it to help humankind. Maybe we do not need to travel a long way to learn something. It is already around us.