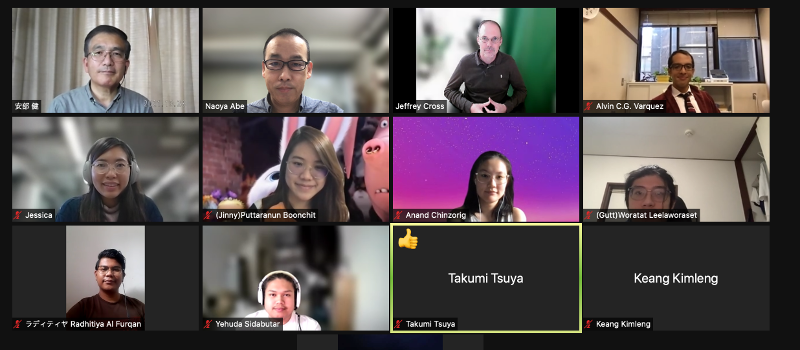 Dr. Takeshi Abe, the creator of the world's first bottle scanner, delivered an online lecture entitled, "The Science of Business", on October 28, 2021. Dr. Abe's lecture is about the world of engineering and its business applications. His lecture is very inspirational and beneficial to everyone that participates in his lecture to widen our perspectives and future career. His unique viewpoint of engineering and business is a must to hear.
At the beginning of the lecture, Dr. Abe introduces himself as an alumnus of the Tokyo Institute of Technology and that he wishes to share the secret behind his projects. Dr. Abe received an opportunity from Tokyo Gas Ltd. to study at Carnegie Mellon University, a famous private research university, in the field of micromachine. During that time, the qualifying examination was tough due to the time limitation for the scholarship program and his limited English language skills. Dr. Abe shared how he came up with a strategy to achieve his goal. He said the key is to construct and implement a plan that's close to perfection.
Dr. Abe tells us the inspiration and challenges of his famous liquid bottle scanner, which was the first to be introduced in an airport worldwide. In planning, the idea is to focus on more realistic solutions instead of the ideal "engineering" method (e.g. having a device that shares detailed quantification than with a simple "safe" or "unsafe" output). The design must provide a simpler, more cost-effective, and more time-efficient machine. Since the machine is designed for usage in an airport, rapid operation and safety become the main challenges. Dr. Abe decided to identify an aqueous solution as the main target of the sensor by using dielectric property to separate flammable and inflammable liquids.
He also shared his professional experiences with us. For example, showing more data doesn't mean a good thing, selecting a good separating standard for sensors, and developing and failing something for a long time usually give a good result. His experiences lead to many successful devices such as Visco Wave, LaserMethane detector, and Laser Falcon. However, what captured my interest the most was how he organizes his research group in Tokyo Gas Ltd. Contradicting the current trend of start-ups, Dr. Abe shares his interesting opinion about the value of start-up companies and the creditability issues they will normally encounter. A start-up company will become less valuable in the commercial stage in both creditability and distribution power. Thus, he proposed sustainable business models where either start-up companies could conduct the maintenance or enable sustainable contracts with middle-sized companies. From my perspective, I personally believe that people will have different ways to surpass this issue and build their own way to success.
Finally, Dr. Abe discussed the emergence of business ideas. Seeing specialty from regular things and the power of different thoughts can be a beginning of a fascinating product. In one way, business and science might have the same PDCA model as Quotation-Modification-Reaction, the only difference is the increase of human essence. At the end of the lecture, students were digesting and reflect on the idea and experiences that they received from Dr. Abe. Some interesting questions were asked for clarification regarding Dr. Abe's viewpoints and personal experiences. Finally, I acquired a lot of inspiration and motivation from today's lecture. It makes me see a glimpse of my uncertain career path. In addition, the application of science in the business field can be indispensable, requiring various approaches. Recognizing these and other factors helps me fulfill my goals.
Written by Leelaworaset Woratat, GSEP student, Tokyo Tech
---
About the speaker
Dr. Takeshi Abe earned his bachelors degree at the University of Electro Communications, Tokyo. After which, he conducted his Masters at Tokyo Institute of Technology and joined the R&D institute of Tokyo Gas on 1986. He then took further studies earning another Masters and his PhD at Carnegie Mellon University on 1995. He has patented multiple devices. Among which was the development for world's first bottled liquid scanner "SLC-211" on 2004, in collaboration with All Nippon Airways and the Japanese Government. In 2020, he also developed a remote methane gas detector, which uses infrared laser technology. The award-winning device of Tokyo Gas is sold not only to city gas companies but to other agencies including New York's fire department. He served as a committee member of aviation security device of the Ministry of Land, Infrastructure, Transport, and Tourism (MLIT) of Japan.