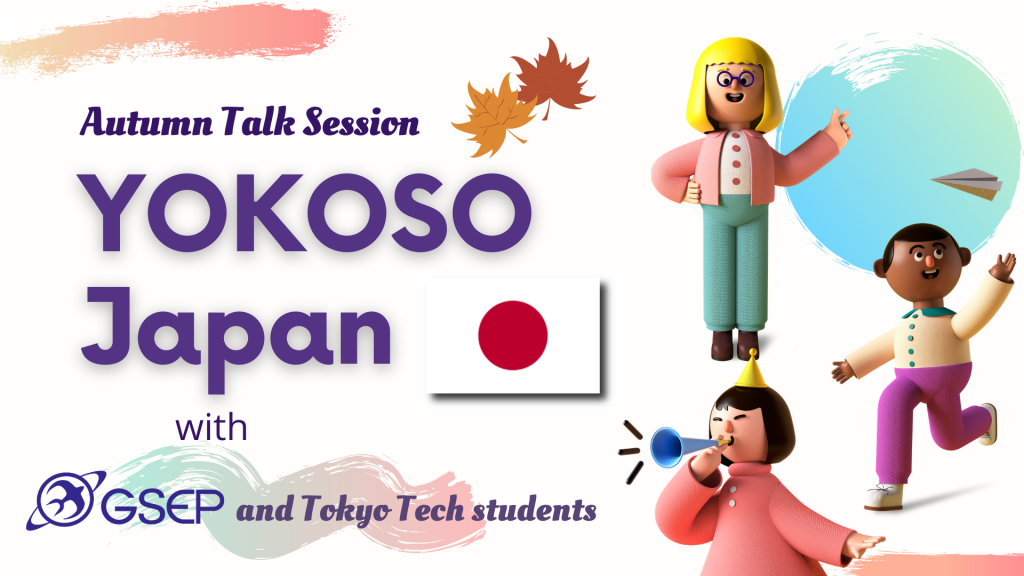 The online event Autumn Talk Session ~ YOKOSO JAPAN! ~ was held in a heart-warming atmosphere for three sessions on Nov. 4th, 11th, and 18th, 2020. This event was led by the International Student Exchange Division to welcome the GSEP 1st year bachelor students. Its primary goal is to foster camaraderie and mutual cultural exchange between the first year international students and the current Tokyo Tech students.  The warm, wonderful senpai (先輩, "senior")- kōhai (後輩, "junior") relationship is strong and evident during this activity.  The senior students of Tokyo Tech made all the effort to welcome and make GSEP freshmen feel at home in Japan during Autumn Talk Session.
There were seven volunteer Japanese and international students in Tokyo Tech from higher year levels  and different departments that acted as the senpais.  They facilitated everything, including arranged the all program, presentation, rehearsal and …everything for their juniors (kōhais)!
What we did
In each session, we had small games as an icebreaker and then followed by the main activity such as the senpais' presentation (Day 1), Group Talk (Day 2), and  Presentation from GSEP students (Day 3).
On Day 2, we played an online Pictionary, in which one draws some picture and others guess what the picture is. Kai from GSEP drew udon noodle quite nicely.  He told us that it was what he ate the very first after the arrival in Japan,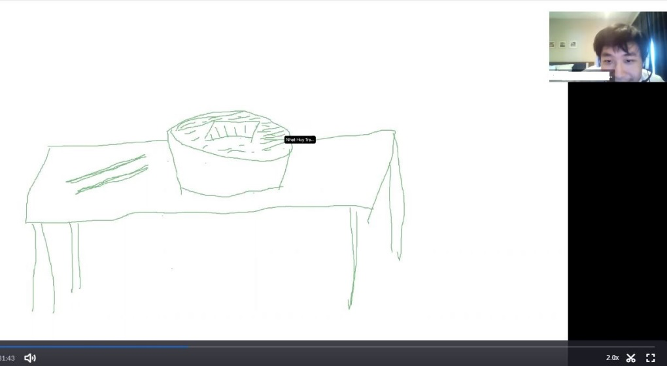 Kai drawing udon, one of the very first thing that he ate after arriving in Japan, during the online Pictionary game.
In the last session (Day 3), each of the 1st year GSEP students gave a short presentation about the things that they are interested about in Tokyo Tech or in Japan.  TK, a GSEP student from Thailand, talked about good restaurants around the university that he wants to visit. He came to know about these restaurants from one of the presentations of his senpai during their first meeting Autumn Talk Session. If you want to know where to find good food around Tokyo Tech, you can now ask TK!
At the end of the last session, there was "Best Presenter" award and the winner is to be chosen by audience voting. It was such a tough job to select only one best presenter, so we ended up with TWO winners! Congratulations to Bryan, from Vietnam who talked about the places that he wanted to visit in Japan, and the Japanese street foods that he cannot wait to try; and Kai, also from Vietnam, who boldly suggested that we should have bánh mì (or banh mi), his favourite Vietnamese sandwich in the campus cafeteria.
Prof. Hirofumi Saito from the Center of International Education presented the awards, which are limited edition Tokyo Tech novelty items, to Bryan and Kai.  In addition to that, Prof. Saito and the International Student Exchange Division recognised the efforts and the hard work of the students and presented them all with a small token of appreciation.
We also took some photos for our good memory!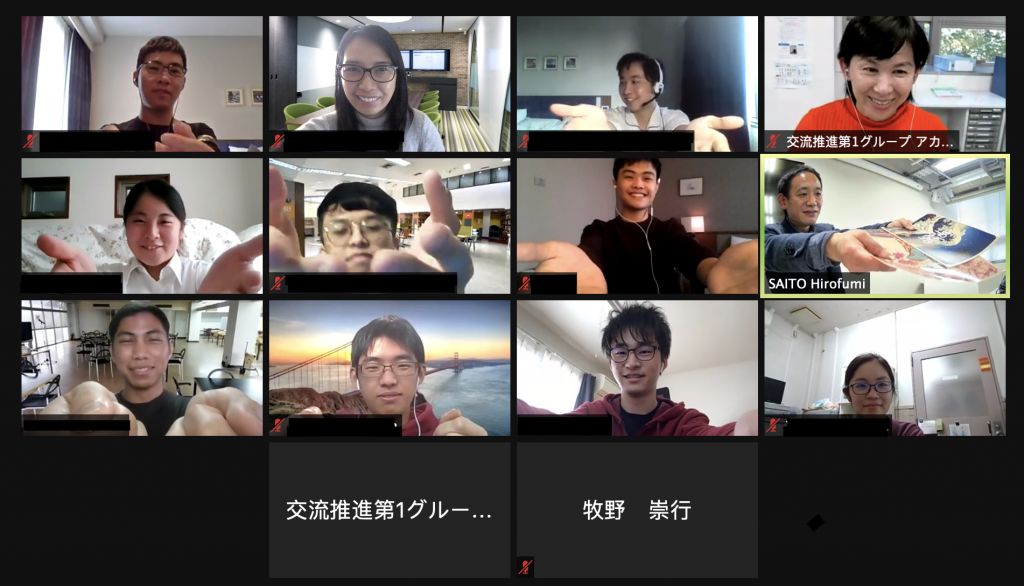 Posing as if we were receiving a gift from Saito sensei
Although it is difficult time for students to interact in person due to the spread of COVID-19, we hope all participants had a good opportunity to feel the warm welcome of the Tokyo Tech community, as well as the joy of international exchange through the online events.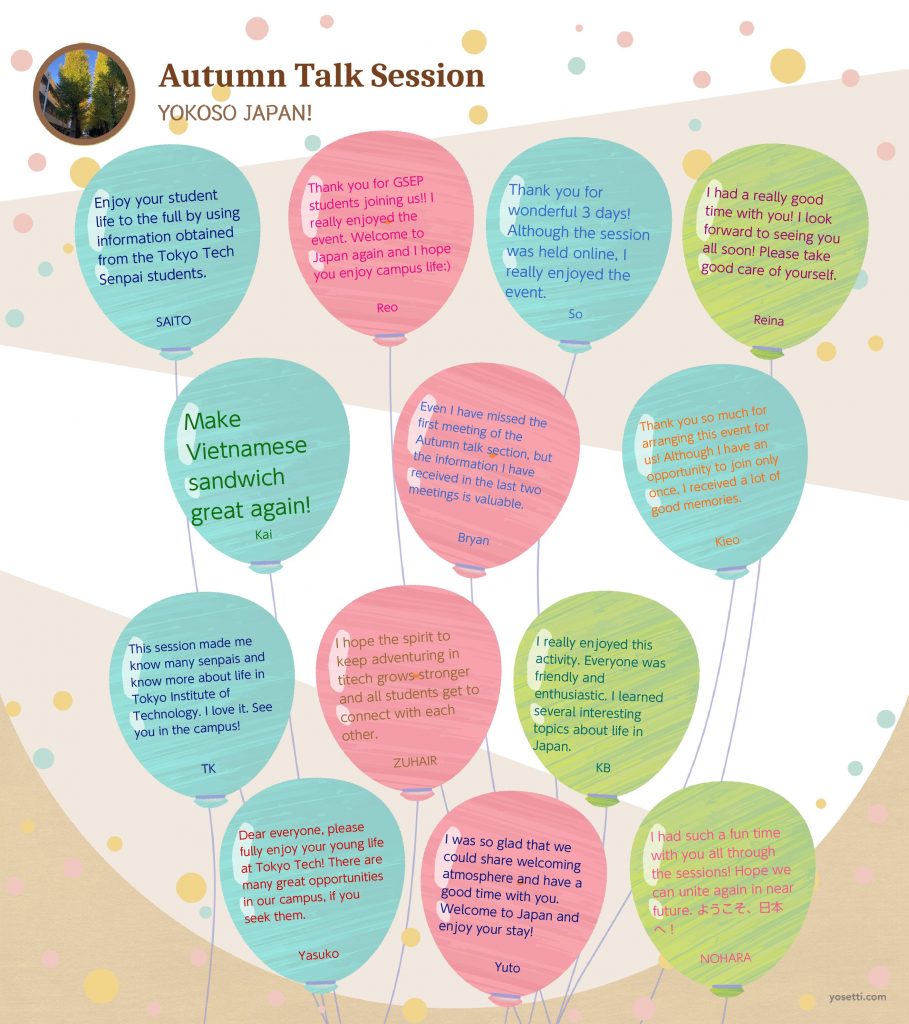 Message board made after the event, a keepsake for the wonderful experiences that the participants shared
Message from the Participants
From the GSEP students ("the kōhais")
"I really enjoyed this activity. Everyone was friendly and enthusiastic. I learned several interesting topics about life in Japan through this session. Thank you for your time" – KB, from Thailand
"This session made me know many senpais and know more about life in Tokyo Institute of Technology. I love it. See you in the campus!"- TK, from Thailand
"Thank you so much for arranging this event for us! Although I have an opportunity to join only once, I received a lot of good memories and it was my invaluable chance to know everyone." – Kieo, from Thailand
"Make Vietnamese sandwich great again!" -Kai, from Vietnam
"Even I have missed the first meeting of the Autumn talk section, but the information I have received in the last two meetings is valuable. I also have a chance to be closer to some Japanese students." -Bryan, from Vietnam
From the senior Tokyo Tech students ("the senpais")
"I had the opportunity to interact with foreign students for the first time. I was anxious because it was held on zoom, but GSEP students are friendly enough to speak English smoothly. I really enjoyed the event." – So
"It was a lot of fun to remember and relive the excitement of going to Tokyo Tech as a new student despite the ongoing pandemic. I hope the spirit to keep adventuring in Tokyo Tech grows stronger and all students whether the freshmen or seniors get to connect with each other to together create a more proactive community." – Zuhair
"Thank you for GSEP students joining us!! I really enjoyed the event. Welcome to Japan again and I hope you enjoy campus life :)" -Reo
"I had a really good time with you! I look forward to seeing you all soon! Please take good care of yourself." –  Reina
Special Thanks
And last but not least, we would like to express our appreciation to all the GSEP faculty and staffs for the huge support on this event. Especially Abe sensei, Eden sensei, and Mehrdad sensei, thank you very much for your attendance!
Written by : Yukiko Nohara
Ms. Yukiko Nohara is from the International Student Exchange Division group which is mainly in charge of the overall management and coordination of affairs concerning international student exchange in Tokyo Tech, that include study abroad programs, international exchange programs, and the preliminary education for international students.
Edited by: Eden Andrews