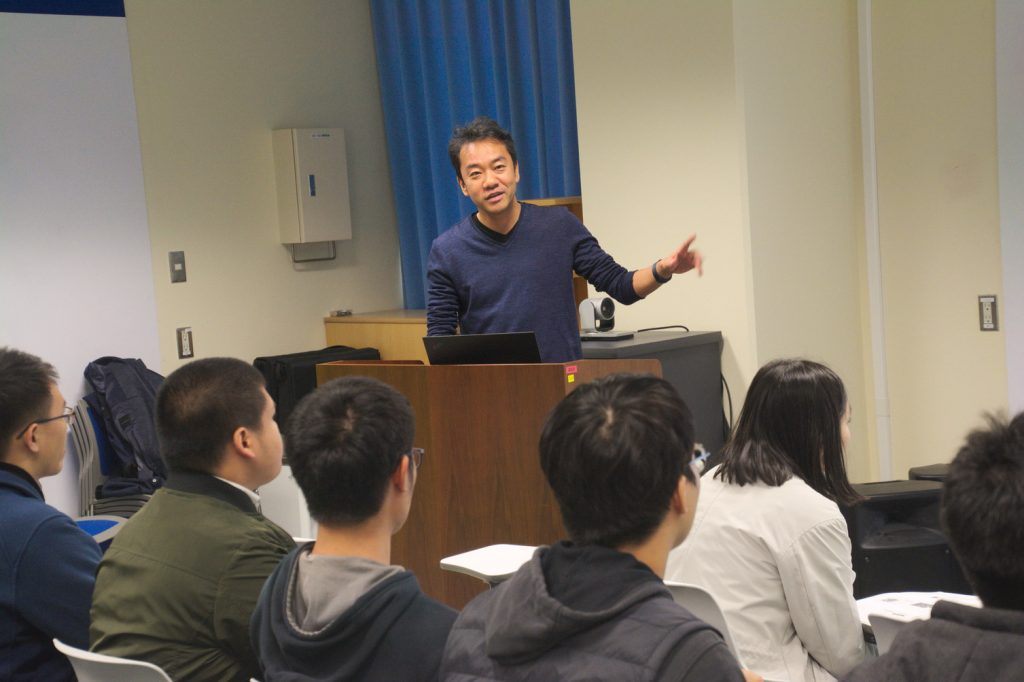 The Tokyo Tech Visionary Project continues to provide an avenue for the first year Tokyo Tech students to discuss and share their thoughts about relevant events and topics in our society today. The main purpose of this course is to encourage self-discovery and to motivate students to set individual goals so that they can envision their own path throughout the four years of liberal arts studies at the undergraduate level. The course alternates between talks from guest speakers and group discussions from the students. This year, Mr. Kyohei Hosono from Dream Incubator Inc. was invited as our first speaker to talk about his life and career.
Mr. Hosono opened by introducing his life growing up in the countryside of Japan. In spite of having only her mother to provide for their needs as a local tailor, he did not feel financial difficulty during his childhood. It was only later when he entered the university that he discovered that the Japanese government has been assisting his family financially. Driven by his motivation to solving issues like poverty or environmental crisis as well as his drive to be unique in society, he decided to pursue work outside of Japan, learn the Russian language, and support in the advancement of post-Soviet countries. He passionately shared about his previous experiences working abroad, the successes and failures of international ventures. His detailed recollection of events revealed to our students shocking and inspiring directions for their future.
Since working for Dream Incubator Inc., Mr. Hosono has worked in various countries across international, national, and local boundaries which he shared openly to us together with his feelings during those times. He has also vast knowledge of start-ups throughout the world. Upon hearing of Unicorns which Mr. Hosono introduced as start-up companies that's not publicly listed (he later explained what this meant), the students learned useful terminologies related to the business world. He also shared rising start-up companies and how his company invests on them and the possible arrangements that could form between Dream Incubator Inc. and the said start-ups.
Throughout the talk, frequent exchanges between the speaker and the students occurred. Interesting questions came up such as the clarification on the difference between the clients of consulting services and venture investments. Mr. Hosono responded that mainly consulting services are offered to bigger, more established companies who wish to outsource their research and development. On the other hand, the latter are for those small companies that Dream Incubator Inc. perceives to become more profitable in the future. Mr. Hosono also added that big companies invest on external consulting services because bigger companies tend to find it difficult to explore or implement major direction shifts in their vision. For new ideas to work, the company as a whole (i.e. not only the CEO or the executive officers) should back it up.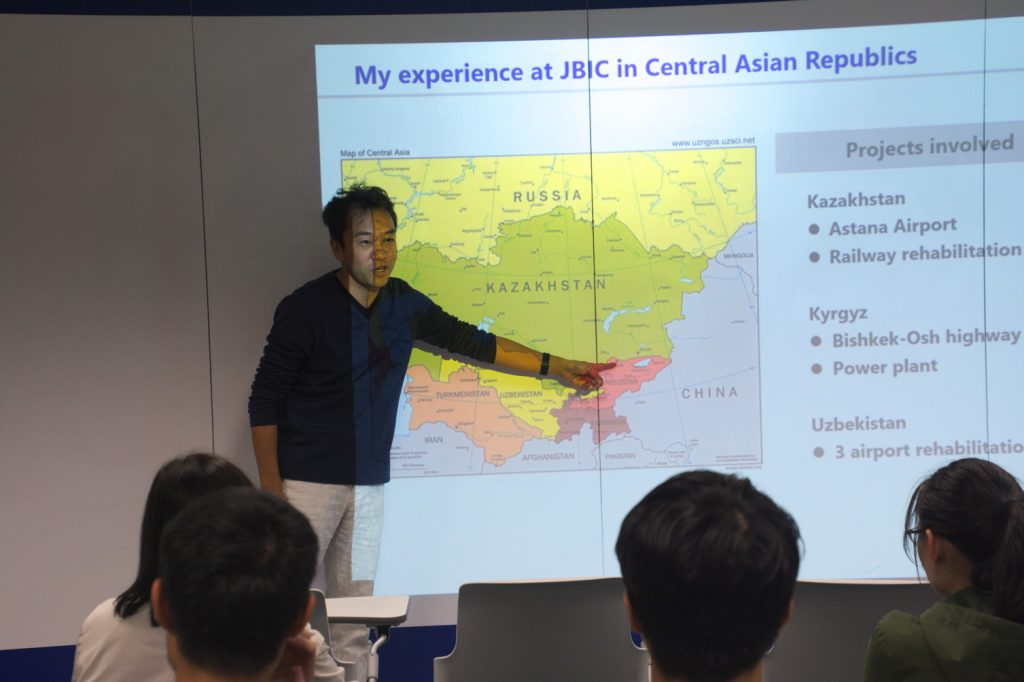 After the talk, a separate session was held for a group discussion among students. The students huddled in smaller groups and discussed about the summary of the talk and their reflections from the talk. Overall, they were very motivated by Mr. Hosono's lecture. They were amazed by his coolness and broad knowledge about investment and consulting. There was also a fascination for the usage of "Unicorn", which is commonly heard in fantasy stories yet symbolically representing rare and profitable start-ups. In Mr. Hosono's lecture,  the students saw a glimpse of one future path, one that does not necessarily require for them to work in purely engineering-related companies.
Browse articles of previous talks here. Below are highlights of the group discussion.
About Mr. Kyohei Hosono:
Kyohei (Kay) Hosono, Executive Officer of the Incubation Division of Dream Incubator Inc., graduated from the Faculty of Letters of The University of Tokyo. He studied abroad at St. Petersburg State University in Russia, and holds a Masters of Public Administration from the University of Michigan in the United States. More details about Kay can be found here.
Written by Alvin C.G. Varquez