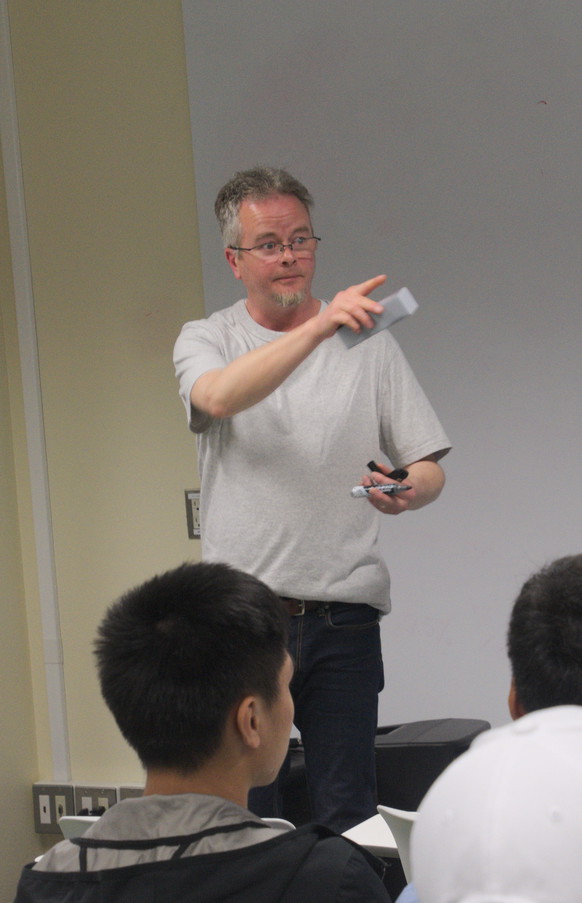 On the 4th year of holding talks in the Visionary Project course, a new guest speaker, Mr. Alfie Goodrich, was invited to share his life as a professional photographer in Tokyo on April 18, 2019. A British freelance photographer and photography educator, Alfie, talked about his life, philosophy, technique, and parallelisms of photography to engineering.
Alfie began by introducing the art of photography. In the field visual arts, photography requires the active decision-making of which subject(s) to include in a frame. A frame is a limited area from which the picture is produced. With also the objective of showcasing a better observation of the surroundings, the photographer has to be aware of every detail immediately surrounding the frame in a fleeting moment. Unconsciously, the photographer's inner self, shaped by its past experiences, significantly affects the positioning of the frame. Because of the uniqueness of each individual, photographers is expected to shoot in a unique way and, thus, should not be bounded by complex rules. It is through appreciating and enhancing their own unique styles, photographers become more relaxed, more aware of their surroundings, and more successful in their career. As with any profession (e.g. engineering), creativity and progress come from self-acceptance and respect among colleagues.
When asked why he became a photographer, Alfie responded that it started when he realized he has no talent for drawing when he was little. At that early age of 5, his dad decided to him a film camera as a present. Growing up, he realized that taking photos is similar to time-traveling. Looking at old videos or photos, Alfie imagines himself being transported to a much earlier time with his family or parents. While others collect coins or a few rare items, he takes joy in taking photos as his prized collection. He enjoys taking pictures of antennas from houses because he sees them as a sign of the changing times. He also likes taking pictures of disposal bins beside vending machines because he reminds them of droids in sci-fi movies.
Alfie also introduced us with a few of his projects and best photos. He shared his experiences working with AMG (high-performance brand used by Mercedes Benz), Mr. Children (very famous Japanese band), and Mitsubishi Motors. Instead of taking photos of AMG products for its annual magazine, he submitted photos of a samurai sword master holding swords with his daughter as a symbolism for the high-performance metal of AMG. He took 100 megapixel photos of Mr. Children band members to advertise their new album using massive photos printed on big buses and billboards. He also needs to conduct surveys of potential sites suited to his clients needs such as deciding for the best outdoor location for a new equipment of Mitsubishi Motors given a limited time. From his experience, engineering and science profession can also be seen similar. Science and engineering can also provide hidden meanings, depict various spatial scales, and time (oftentimes very limited) boundaries. As a photographer, Alfie needs to make snap decisions similar to project managers in engineering fields. In addition, he has to make room for unexpected incidents to happen, such as on-site troubles or new opportunities. Unlike engineering and science, however, photographers must minimize preconceptions as possible, to leave more room for flexibility.
Alfie delivered his talk with the classroom lights dimmed so the students can better see the pictures on the slideshow. To emphasize his points, slides alternated from pictures to quotations of famous photographers. Occasionally, he would give tips on photography but this article mainly focuses on the deeper insights of a man who sees the world through his personal lens.
Having lessened his worries since his personal growth and immigration to Japan, Alfie told us that he will always be a kid at heart. As a big kid, he inspired the engineering students to continue to be curious and fascinated with our surroundings. Together with his assistant Masako, Alfie sees Tokyo as his studio filled with photos waiting to be taken. In engineering and sciences, maintaining curiosity in the profession is vital to have a fulfilling life. He also advised the students to become professional but be aware of once presence in every action.
It is also not enough to keep a youthful mood. It is also important to be aware of our own changes. As we age, it is important to notice the changes of how we perceive our world. Layers in photos change with time. He advised to try to see the world covered in frequently changing layers. Alfie's shooting style has changed compared to when he was younger. Noticing the improvements between then and now, a professional could not help being excited of the improvements in the future. Alfie also sees his photography classes as a means for him to help out others. He believes that when professionals help others (solve their problems, etc), the action also helps the professional profoundly.
It was indeed a rare and special opportunity for the students to listen to Alfie's talk despite of his busy schedule as a big kid, professional, father, husband, and educator. Alfie has delivered a very insighftul message for future professionals!
Below are photos taken during the group discussion held a session after.
Mr. Alfie Goodrich
A British freelance photographer and photography educator.Aside from his profession, he is the ambassador to Japan for the Swedish company, Hasselblad, a camera manufacturing company whose cameras are widely used in space explorations. Recently, he has growing interest in videography. For more information, visit his official website.
Written by Alvin C.G. Varquez