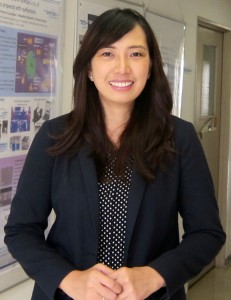 This article features Eden Mariquit-Andrews, specially-appointed associate professor, one of the GSEP lecturers.
What is GSEP for me?
The Global Scientists and Engineers Program or GSEP is the embodiment of Tokyo Tech's commitment to internationalization. GSEP is the first undergraduate program in our university that is offered in English. It is special in a sense that it gives opportunity to students who have minimal Japanese language ability to study science and engineering in a world class Japanese university. The students under GSEP also have the chance to take Japanese language courses to help them in their daily life here in Japan. Our department, the Department of Transdisciplinary Science and Engineering spearheads this program. Through GSEP, we get an influx of bright young students from all over the world, bringing with them not only their eagerness to learn but also their individuality, their culture, an identity uniquely their own. This is a welcomed integration to the academic community of Tokyo Tech where the diversity and uniqueness is respected and appreciated among the members of the academic community. More importantly, I see GSEP as an avenue to develop our students to be world-class engineers and professionals in the future. Under this program, students can learn so much from the competent faculty of the university and have access to the abundant resources here that they can utilize to maximize their learning experience and prepare them to become valuable members of the society in the future.
 My role in GSEP (About my teaching /subject)
I am part of the wonderful and capable group in the TSE department that oversees the effective implementation of the Global Scientists and Engineers Program. I am very proud of this program now that it is beginning to fulfill its mandate. In GSEP, we teach students subjects from different fields of engineering, science, and even social sciences. This enables the students to be knowledgeable enough in different fields of study that they may integrate this knowledge to become well-rounded and versatile professionals in the future. We highlight the importance of collaboration and cooperation with other individuals from different fields of study in working towards a common goal.
One of my direct contributions in GSEP is that I teach the subjects Chemical Reaction Engineering, Fluid Engineering, and also part of Biological Engineering to the students. The faculty in our department is continuously working on the development of new subjects and course materials for the undergraduate program.
As a part of the GSEP core group, I am actively involved in the promotion of the program and student recruitment. GSEP recruits the highly motivated and students with great potential, and equally important, a very positive attitude. When these young students finally decide to come to join the program, we do our best to support them until they are finally able to adjust to their new life in the university and in Japan.
Working with my colleagues in GSEP is delightful if not, a very inspiring day-to-day experience. The commitment and passion towards the improvement of the program is unwavering which makes me very optimistic about GSEP.
About my research
I have a bachelor's degree in chemical engineering from the University of the Philippines and a master's degree in environmental engineering from De La Salle University. For Ph.D., I graduated from the International Development Engineering Department of Tokyo Institute of Technology. While in IDE, I did my dissertation on photocatalysis and since then I have been doing research in photocatalysis, particularly on its application on pollutant degradation. I have always aspired for my research to have more practical application, and currently, I am working on my research and other research endeavors in the laboratory of Prof. Hirofumi Hinode, who was also my adviser during my Ph.D. Aside from photocatalysis, Hinode laboratory also conduct researches in nitrogen oxides (NOx) abatement in the atmosphere) and conversion of some waste or by-products such as lake sludge, rice husk, to more valuable materials such as zeolites, catalysts, and adsorbents. In my capacity, I help the students in our lab in their research through consultations or by giving comments and research advice during our lab seminars where we evaluate the research progress of the students. Through this, my knowledge in other research fields is also broadened and I am very eager to merge all of these ideas to create more exciting research in the future.
Career Vision
As for the career vision, I really want to be very good at what I do and affect the people around me in a very positive way through the things that I do and for now, that is teaching. I envisioned myself to be a good educator, an inspiring leader, and a tenacious scientist. A career vision for me is closely tied to what I want to become as a person. I want to be able to give back to society the fruits of the privilege and opportunities that I was fortunate to have. This will entail a tremendous amount of effort, a feat that I cannot achieve by myself that I need an institution and a cause that believes in giving out quality education and shaping the future through education, science, and engineering. That is the Tokyo Institute of Technology and the Global Scientists and Engineers Program for me now. It is very auspicious to be given a chance to be at the exact place where I want to be at this time of my life and so I intend to make the most out of it and continuously hone my craft, in pursuit of fulfilling my own career vision.