One of the main objectives of the Visionary Project, a required course for 1st year students of Tokyo Tech, is to broaden the views and increase the potential skills of the students by exposing them to liberal arts subjects, concepts that may seem irrelevant initially to scientists and engineers. The topics could either serve as a temporary break from the hard-core science subjects, a means to better understand their fellow classmates, or as a venue to learn the value of social sciences in building a more sustainable future for the student and the world. All these were achieved in another special talk and group discussion about music, a common subject in Liberal Arts, held in the Spring morning of May 18, 2017 and concluded on May 22, 2017. The 2-day session covered a brief summary of the history of music, how music differs from other forms of arts, the people who create and listen to music, and the challenges faced by modern-day musicians. To demonstrate music and teach appreciation of music to the GSEP students, live performances from the speakers and the students and a group discussion among the students on the second day were conducted.
Held in a vine-covered small building commonly used by music circles of the university, the talk was conducted by Mr. Slavomir Stanislaw Kowaleski or "Slavek", and Ms. Kaori Nakamura "Kaori". Both Slavek and Kaori are accomplished and renowned musicians who took their time from work to impart their knowledge and music philosophy to the students. The students learned about the history and the modern trends of music. Slavek challenged the students to appreciate the works of musicians and to fully utilize music in their lives by listening attentively to music. He told the students to be more aware of its future alongside technological advancement. Questions came up such as "Will new genres continue to created?", "Will music be a continual revival of the classics?" and "Will innovation be a plus or minus for music in general?". 
Towards the end of his talk, Slavek shared the reality that being a musician is not purely about passion and excitement but in fact, similar to all forms of profession, a continual struggle for survival. Being a musician requires 95% work and 5% fun. Oftentimes, musicians are forced to compose pieces that are not necessarily to their liking but what is simply required by corporate clients and masses. Despite this, the positive side is that they have flexibility with regards to personal time. Musicians tend to be more in control with their lives, and they see the world differently from others. Music in itself, for musicians, is survival, and a means for society to go forward. Throughout the discussion, students freely asked questions showing their growing interests in music.
After the inspiring talk by Slavek, performances were conducted by both Slavek and Kaori to cover classical and modern classic pieces such as a piano solo composed by J.S. Bach, Ombra mai fu in an opera duo by Hendel, and Stripsody, a voice solo, by Cathy Berberien. It ended with a performance of a traditional Japanese and piano performances to show to the students how music can be as global as the GSEP students themselves.
In the middle of the performances, together with their lecturers and professors of the department, Kaori led the students and the speakers in performing the piece 4'33' by John Cage using instruments such as a baton, guitar, piano, ukulele, cielo, and chorus. It was a great team effort and it made the students and faculty members to realize that music can also be found in silence, and that what we need to do is to actively listen. The whole lecture moved the students and guest lecturers that they continued to discuss with both Slavek and Kaori even late during noontime. In spite of the late lunch time, both speakers took time to continue discussing with the students. Truly, we are left with nothing but gratitude and high regard for them.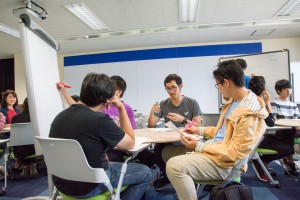 The discussion about music continued until the next group work session, May 22, 2017, at the Creative Commons Room. Unlike the previous lectures, the session on music brought out the emotions from the students. In particular, the summary presented by Son and the sharing by June caught the attention of the students. Son, Vietnamese student, asked his fellow classmates to listen to a Vietnamese song which he played through his phone. Afterwhich, he made them guess, since the language was foreign to most, what the singer's message was. Everyone else guessed right the emotion expressed by the artist through the combined effect of melody, rhythm, and the pitch of the voice, without necessarily understanding the Vietnamese language. Son summarized how music, as a form of art, brings about common emotions despite difference in the listeners' backgrounds. June shared how Slavek's talk about his background and the challenges he faces as a musician reminded her of his life before high school when she fought hard to be able to take a career in music. Until now, she still has this passion for music, which surprised and amazed everyone. Through the talk and encouragement from the other students, June became more aware of how both fields from different backgrounds (scientific concepts and music) are both related and essential for a better future. This was emphasized by Jom's team when they asked an open question on what is the true purpose of music, and how it again differs from sound.
Once again, our deep gratitude to everyone who participated in the lecture, especially to Slavek and Kaori for the deep, insightful, and inspiring time.
Feel free to check out last year's article on the music talk organized by Slavek and Kaori, here.
Below is a gallery of the Visionary Project session on music:
Speakers background:
Mr. Slavomir Stanislaw "Slavek" Kowalewski
Slavek is an award-winning Polish composer and pianist based in Tokyo. His work on major film and broadcast productions includes original scores for NHK, Fuji Television, TV Tokyo, and TBS networks, as well as Japan's top pop act, AKB48, and covers a wide range of musical genre, ranging from full classical orchestral scores to Japanese traditional, piano solo, jazz, electronic, minimal, and avant-garde. More information about Slavek and his works can be found here.
Ms. Kaori Nakamura
Ms. Nakamura received both her B.A. and M.S. in vocal performances from the Tokyo College of Music. As a scholarship student, she accomplished further study and training under the tutelage of Yoko Nomura and Fumiko Serizawa. Ms. Nakamura also studied under G. Bambry's instruction, while participating in the International Summer Academy Mozarteum in Salzburg, Austria. After working as an assistant in the vocal music program at her alma mater, she traveled to France, where she received a generous support from the Rotary International Foundation and the Yamanashi Philanthropy Association in order to pursue deeper studies in singing at the National Conservatory of Strasburg. She has studied further in courses under Mari Kobayashi, F. Kubler, C. Sheide A. Anguster, and D. Dercourt. While teaching students in vocal music at the Diemeringen Music and Dancing School in Alsace, France. Ms. Nakamura made a debut as a vocalist and gave several concerts inside and outside of France. She was awarded second place in vocal music at the 41st French Music Competition. She also worked as an interpreter for vocal classes at the Kyoto France Academy of Music in 2012 and 2013. She is currently a part-time lecturer in vocal music at Kaiseika High School and teaches French at Yamanashi Eiwa High School. Ms. Nakamura is also a member of the French Japanese Society of Contemporary Music.
Written by Alvin C.G. Varquez