Academic Calendar
One academic year will be divided into four quarters.


The advantages of this system are:
• Intensive learning in shorter periods will enhance learning effectiveness.
• Flexible academic plans will make it easier to study abroad or do internships.
• Offering courses more frequently will better accommodate students.
• Enrollment in Tokyo Tech will be more accessible for international students.
Campuses
The Department of Transdisciplinary Science and Engineering is comprised of laboratories situated in various campuses of Tokyo Tech. There are currently 3 campuses: Ookayama, Suzukakedai, and Tamachi campus. All required courses of GSEP are held in Ookayama campus. The main campus is Ookayama which is located in Meguro ward. Suzukakedai campus is located in Nagatsuta, Midori ward of Yokohama. Access and map of the campus can be found here, and some pictures inside the campus can be seen here.
Accommodation
Each GSEP student will be assigned to a dormitory during the 1st year subject to the approval of the administration office. The dormitory is a good opportunity for the international students to interact with fellow GSEP or Tokyo Tech students and to adjust to the Japanese way of life. Student tutors are also hired part-time to assist the GSEP student. Specific information regarding each dormitory can be found here.
Club Activities
Extracurricular activities provide a forum for you to pursue your own potential, deepen exchange with other students, faculty members and graduates, and acquire both a benevolent character and advanced expertise and skills. Various clubs and circles in Tokyo Tech are available. A list can be found here.
Support for International Students
Tokyo Tech's administrative staff, laboratories, and students offer support to help international students settle comfortably into Japanese life. A range of counseling services and support facilities are available. Some of the support services can be found here.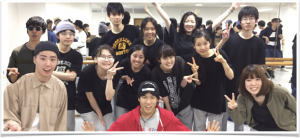 GSEP students may also join the organization for international students of Tokyo Tech, called Tokyo International Students Association (TISA). TISA arranges some activities, such as welcome party for new international students and the annual sports festival. Fostering good relationships with others international students from different countries will help GSEP students adapt well to Tokyo Tech life.
Interviews of current international students and contributions from Tokyo Tech alumni can be found here.
Off-campus Project (GSEP)
The off-campus project (GSEP) aims to enrich the learning experiences of our GSEP students by showing them different places and letting them meet and learn from new people, engineers, entrepreneurs from the present, and even the past era. This opportunity will inspire and expose them to significant aspects of the Japanese society. Click here to view past events.